New Delhi: Bangladesh wicketkeeper-batsman Mushfiqur Rahim on Thursday taunted the Indian team after their shock exit from the ICC World Twenty20 at the hands of West Indies.
Taking to social micro-blogging site Twitter, Rahim posted a TV grab of MS Dhoni speaking during the post-match interview and captioned it, "Happiness is this...!!! ha ha ha..!! India lost in the semi-final..."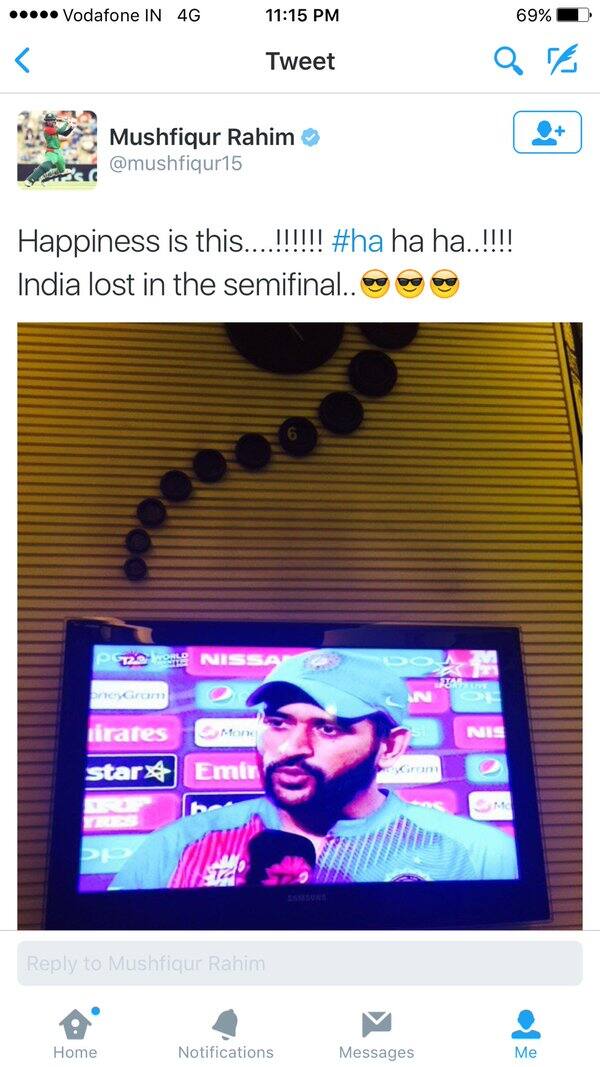 This post did not go down too well with the Indian fans who were distraught after their team's defeat.
Facing a severe backlash for his distasteful post, the 27-year-old not only deleted his tweet but also apologized soon after.
Sorry to all of you guys...as i am a big West Indies supporter but anyway sorry again for some harsh words...!!!!

— Mushfiqur Rahim (@mushfiqur15) March 31, 2016
Rahim was probably hurting after his team's loss to India by 1-run in the group stage of the tournament.
He probably felt Darren Sammy's side had earned revenge for the heartbroken Bangladeshi team and fans.
However, little did he realize that such behavior was unbecoming of an international cricketer.