Abu Dhabi: Lewis Hamilton clinched his second drivers` world championship and became the first British multiple champion for 46 years when he won Sunday`s season-ending Abu Dhabi Grand Prix.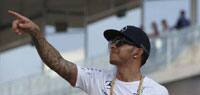 The 29-year-old Englishman, who took his first title in 2008 with McLaren, won not only the 55-laps race, but also his private duel with Mercedes team-mate Nico Rosberg, who suffered prolonged problems with his car after making a poor start from pole position.
Having started from the prime spot on the grid for the 11th time this year, Rosberg was comprehensively outpaced as Hamilton surged clear to control the race with a well-judged and dominant performance.
Hamilton`s victory was his 11th of the season and the 33rd of his record-breaking career and secured a record 16th victory of the season for the Mercedes team.
Rosberg finished 14th, lapped by Hamilton and bitterly disappointed.
As Hamilton roared his delight - "Whoooah world champion - Oh my God, cannot believe it - thanks everyone" - Prince Harry responded on the team radio. "Thank you very much Lewis for not letting the British public down, you are a legend."
Hamilton became the fourth British driver to win more than one championship, joining Jackie Stewart, Jim Clark and Graham Hill, the last man to succeed in 1968.
Rosberg struggled with a series of problems that hampered his performance, but refused to retire when offered a chance to pit with two laps remaining.
"I`d like to go to the end," said an emotional Rosberg, who knew his fate when he was lapped at the end.
Hamilton came home 2.5 seconds clear of second placed Brazilian Felipe Massa of Williams and his team-mate Valterri Bottas, who was third.
Australian Daniel Ricciardo was fourth for Red Bull ahead of Briton Jenson Button in what may be his last race with McLaren, Nico Hulkenberg and his Force India team-mate Sergio Perez.
Four-time world outgoing champion Sebastian Vettel finished eighth in his final race with Red Bull, one position ahead of the man he replaces at Ferrari next season, Fernando Alonso and Kimi Raikkonen in the second Ferrari.
Rosberg, showing great sportsmanship and dignity in defeat, went to the pre-podium room to embrace and congratulate Hamilton, a gesture that spoke volumes for their rivalry. 
str/nrLewis Hamilton was crowned the 2014 world drivers` champion on Sunday after winning the season-closing Abu Dhabi Grand Prix.
The 29-year-old Briton, who won his first title in 2008, claimed his 11th win of the Formula One season to finish on 384 points.
The title challenge of pole sitter Nico Rosberg, Hamilton`s Mercedes team-mate, petered out when he suffered engine problems with the German trailing in out of the points.
"Woooooaaahh world champion, oh my God, can`t believe it, thanks everyone," Hamilton exclaimed after taking the chequered flag.
One of the first to congratulate him was Britain`s Prince Harry, who said from the Mercedes garage: "Well done Lewis, you are a legend."
Hamilton won the final race of the season from Williams`s Felipe Massa with the second Williams, driven by Valtteri Bottas, third.
Rosberg, who suffered the ignominy of being lapped by Hamilton, came in 14th.
He finished second in the drivers` race on 317 points, with Red Bull`s Daniel Ricciardo in third place.