Cyclone Fani: Kolkata airport will remain shut from 9.30 pm on May 3 till 6 pm on May 4
At least 19 districts of Odisha, Andhra Pradesh and West Bengal are likely to be affected by "extremely severe" cyclonic storm Fani, which is expected to make landfall 10km north of Chandrabhaga in Puri district on Friday afternoon.
At least 19 districts of Odisha, Andhra Pradesh and West Bengal are likely to be affected by "extremely severe" cyclonic storm Fani, which is expected to make landfall 10km north of Chandrabhaga in Puri district on Friday afternoon.
As per the bulletin put out by the India Meteorological Department (IMD), Cyclone Fani over west central Bay of Bengal, which had moved north-northeastwards by Wednesday evening, was just over 500 kilometres from Puri in Odisha by around midnight.
Here is the news on extremely severe storm approaching the Odisha coast tonight:
* No flight will depart or arrive at Kolkata's Netaji Subhash Chandra Bose International Airport between 9.30 pm on Friday and 6 pm on Saturday
* The Odisha government released the control room phone numbers for 30 districts. (READ FULL LIST HERE)
* Asia has cancelled their international flight Bangkok/Bhubaneswar/Bangkok flight today, which arrives at 11.45 pm and departs at 12.15 am.
* When wind speed crosses 50 km per hour standing instruction has been given to all respective electric official to stop power supply. This instruction will be in force after 10 pm in the night power secretary.
* Ships at Visakhapatnam are standing by with relief material for immediate deployment to the most affected areas to undertake Humanitarian Aid Distress Relief (HADR) operation. Three Eastern Fleet ships are at sea following the VSCS so as to be the first responders of HADR Operations post landfall. Diving and Medical teams are also kept ready at short notice augmenting rescue and relief efforts in Odissa and West Bengal. Naval aircraft are kept ready at Naval Air Stations, INS Dega (Vizag) and INS Rajali (Chennai) to undertake aerial survey of the most affected areas, casualty evacuation and air drop of relief material as required by the state administration.
* The following trains have been cancelled:
1) 15905 Kanyakumari-Dibrugarh Vivek Express commencing journey on Thursday has been cancelled.
2) 15644 Kamakhya-Puri Express leaving Kamakhya on Thursday has been cancelled.
3) 22644 Patna-Ernakulam Express leaving Patna on Friday has been cancelled.
4) 12503 Bengaluru Cant-Agartala Humsafar Express leaving Bengaluru Cant on Friday will remain cancelled.
5) 06335 Guwahati-Kochuveli Special from Guwahati to run on diverted route via Kharaghpur-Jharsuguda-Sambalpur-Titlagarh-Vizianagarm and Visakhapatnam.
* The storm is likely to make a landfall north of Chilka lake, somewhere near Puri on Friday afternoon between 2.30 pm to 5.30 pm as per present speed and direction. At the time of landfall the system is likely to pack a wind speed of 170 - 180 kmph gusting to 200 kmph.
* Civil Aviation Minister Suresh Prabhu said all authorities concerned have been alerted so that they are ready to deal with the cyclone. "Alerted all concerned to be ready to deal with Cyclone Fani. Airport Authority of India issued alert to all coastal airports to ensure all precautions, SOPs (standard operating procedures) put in place immediately," Prabhu tweeted.
* Indian Railway has released several helpline numbers for passengers at various railways stations in the affected states. (CLICK TO READ)
*
Latest on #CycloneFANI. System is approximately 164 km ESE of Vizag as of now. The central pressure of the system is 958 hPa. Max sustained winds around the system centre is 200Kmph. Moved slowly in a Northerly direction in last one hour @nsitharaman @PMOIndia @NDRFHQ @ndmaindia pic.twitter.com/53yQf7tsFR — SpokespersonNavy (@indiannavy) May 2, 2019
* A total of 3,31,794 people have been moved to safe zones and shelters till 3 pm in 15 districts Odisha.
* The West Bengal government has decided to keep classes suspended in government, government-sponsored and non-government aided schools in West Bengal. The period for the closure of schools is from May 3-June 30.
* A total of 24 outbound IndiGo flights to and from Bhubaneswar, Odisha, stands cancelled for May 3. All GoAir flights in and out from Bhubaneswar too stands cancelled for May 3.
* PM Modi has chaired a high-level meeting to review preparedness for Cyclone Fani. (READ FULL STORY HERE)
* Click here for emergency contact details of hospitals in Bhubaneswar.
* Click here to check the list of trains cancelled and diverted by East Coast Railway.
* Disaster helpline numbers issued at for contacting the following railway stations:
- Kharagpur - Railway - 63535; BSNL - 003222 221696
- Balasore: Railway - 64908 and 64909
- Howrah: Railway - 45271; BSNL - 03326412975
* Navy and Coast Guard working in sync to prepare for Cyclone Fani's landfall. Some of the steps taken so far are:
- Ships and aircraft on surveillance sorties have been warning fishermen not to venture into the sea.
- Radar stations along the coast have been issuing warnings in vernacular languages.
- 2 ships each in Vizag and Chennai at the ready for immediate mobilization.
- 4 rescue teams in Vizag and another 4 in Chennai.
- 1 Chetak helicopter each in Vizag and Chennai.
- 2 Dornier aircraft in Chennai configured to embark Gemini boats which can be rushed to the seas.
* Odisha CM Naveen Patnaik has spoken to collectors of Puri, Khurdha, Jagatsinghpur, Kendrapara, Ganjam, Gajapati and Cuttack over the phone. He has asked them to expedite evacuation in the low line areas. He also stressed on 'zero casualties', and appealed to people in the state to allow the evacuation of specially-abled persons, elderly, children and women first.
* Airport Authority of India has issued an alert to all coastal airports to ensure all precautions and SOPs are put in place immediately.
* Chief Secretary, West Bengal to chair an emergency meeting in the wake of Cyclone Fani at Bengal state secretariat Nabanna. NDRF, Indian Coast Guard, Bengal Police's Coastal Security, Disaster Management Group representatives to be present in the meeting. Meeting to begin at 12noon today.
* As Cyclone Fani is set to make landfall on Odisha Coast on May 3, sand artist Sudarsan Pattnaik has sculpted a creation along the (now) vulnerable Puri sea beach. He tweeted, "Appeal to all Don't Panic! Stay safe and help each other during Cyclone Fani. My sand art at Puri beach in Odisha." He has also said, "I pray to Lord Jagannath to keep everyone safe and secure. I urge the people to stay united and not panic. Please cooperate with the administration and shift to safe places."
My humble appeal to all Don't Panic! Stay safe and help each other during #CycloneFani . pic.twitter.com/4CDXN1KmQR — Sudarsan Pattnaik (@sudarsansand) May 2, 2019
* At 8:50 am on May 2, Cylcone Fani is located around 230 kms south-southeast of Visakhapatnam and 420 km south southwest of Puri based on Radar image.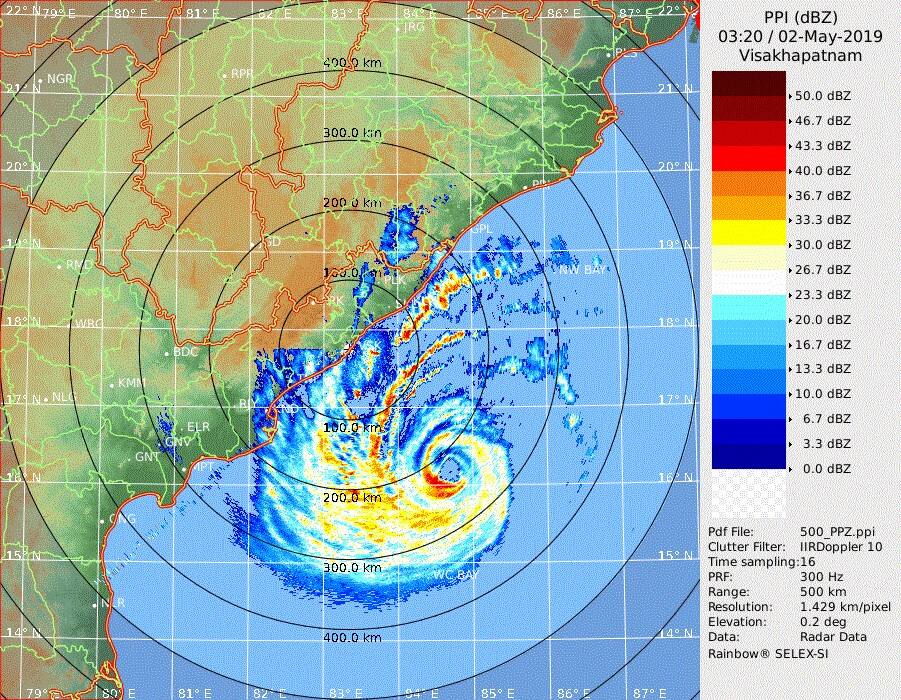 * A special passenger train to start from Puri as Cyclone Fani approaches. Read full report
* An orange alert has been issued by the Met department which calls for preparations ahead of cyclonic conditions developing. It has been predicted that isolated heavy to very heavy rainfall is very likely over Gajapati, Ganjam, Puri, Khordha, Koraput, Rayagada and Kandhamal districts of Odisha on Thursday.
* A red warning, which necessitates on-ground actions, has been issued for Friday in these districts as well as in Puri, Cuttack, Dhenkanal, Angul, Keonjhar and Mayurbhaj districts of the state.
* Coastal districts of West Bengal and Andhra Pradesh too have been warned to take precautionary measures as the sea all along the coast of these three states is likely to remain rough for the next two to three days.
* The Indian Navy and Indian Coast Guard have stepped up efforts to ensure safety at sea with its ships being equipped with additional relief materials. The Navy has also kept two aircraft on standby.
Live Tv