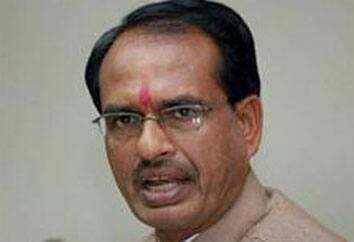 Ritesh K Srivastava
It has surely been a super Sunday for the incumbent BJP, which has got an even bigger mandate this time to rule Madhya Pradesh for a record third time in a row and its charismatic leader Shivraj Singh Chouhan who has undoubtedly scripted his party`s resounding win in the crucial Assembly polls.
Though it is debatable as to what mainly helped the party ride back to power in Madhya Pradesh - the pro-incumbency factor, the emergence of Narendra Modi on the national scene or Shivraj Singh Chouhan`s own popularity among masses - it is now almost clear that the outcome of these polls will certainly impact the bigger game of 2014.
Many in the country see the popular mandate as definite backing for Shivraj Singh Chouhan's style of governance, which got a further boost from the high-voltage campaigning by BJP`s PM candidate Narendra Modi during elections in MP. However, it is Chouhan who has been the real mascot of the party in MP more than any other party leader.
While the results are a huge setback for the Congress, the outcome of polls have also dealt a personal blow to the Jyotiraditya Scindia, who was entrusted with the task of dislodging the two-term old Shivraj Singh Chouhan government in the state. The young and dynamic Scindia royal family scion, who was widely tipped to be the Chief Minister in the event of Congress` victory in Assembly polls, had no doubt put his heart and soul into the electoral battle.
Another interesting aspect of these polls have been the accuracy of the exits polls, which predicted that the BJP was headed for a massive win in Rajasthan and Madhya Pradesh, and a close call in Delhi and Chhattisgarh.
Also Read: Madhya Pradesh Assembly Elections: Full Results
Here are the factors which probably helped BJP retain its fort in MP –
Pro-incumbency : Unlike Rajasthan and Delhi, where an anti-incumbency factor worked against the ruling parties, the ruling BJP scored a hat-trick in MP amid a "pro-incumbency" wave across the state. The saffron party, which fought the elections on the development plank, was confident from the very beginning that voters in MP will vote for the Shivraj government for initiating several flagship welfare schemes, including the Ladli Lakshmi, Kanyadan etc, in the past ten years.
Though development was also the main poll plank of Congress, which attacked the BJP government for announcing over 7000 new schemes and not completing even half of them, the voters still preferred Chouhan's leadership, his vision and his style of functioning.
Brand Shivraj: Despite several BJP minister`s coming under scanner for corruption and their alleged misconduct, CM Chouhan`s clean image worked wonders for him and his party. With a carefully cultivated image of family man coupled with simplicity, Chouhan presented himself as a leader with a vision for development and acceptable to all sections. 54-year-old Chouhan, who has always maintained a low profile and ignored comparisons with high-profile Narendra Modi, carefully nurtured a `secular` image by attending Iftar parties and wearing skull caps. Unlike other leaders, he avoided attacking his opponents and concentrated solely on winning his state back - a strategy that has paid huge dividends.
The soft-spoken leader is highly popular among farmers, villagers and commoners and is easily identified with their socio-economic concerns. He has faced criticism for having little control over his own ministers but has always succeeded in turning the tide in his favour and placating the rebels within his party. He even denied ticket to 45 of his sitting 143 MLAs against whom he expected a people`s backlash. Unlike Modi, Shivraj shares a good rapport with party veteran LK Advani and a direct connect with the RSS, the ideological master of the BJP.
High voter turnout: In Madhya Pradesh, a higher voter turnout in the last few polls has shown a trend of favouring an incumbent government since 2003. Till 2003, anti-incumbency sentiments prevailed in the state. In 1985, the state recorded 49.79% polling when Congress retained power in the aftermath of the assassination of Indira Gandhi. However, in 1990, the BJP came to power in the state riding on the Ayodhya movement, with 54.21% polling. The BJP remained in power for just over two years and as the Centre imposed President's rule in the state after Babri mosque demolition in Ayodhya.
In 1993, Congress came back to power under the leadership of Digvijay Singh with 60.17% people exercising their right to vote. The Congress retained power in 1998, amid rising prices of onion becoming a major issue and a marginal increase in polling at 60.21%. However, 2003 witnessed a record 67.25% polling when people came out in large numbers to vote on the issues of power, roads and water.
BJP then came back to power in the state under the leadership of Uma Bharti, with a mandate of 173 seats, which is a record till date. In 2008, the poll percentage rose to 69.78 in the state as BJP retained power with 143 seats and rebel Uma Bharti cornering 5.1 per cent votes. Chouhan became the first BJP Chief Minister to complete a full term in the state.
Lack of leadership in Congress: Though Congress tried to put up a united front, the party remained largely divided and the fight for one-upmanship continued. Congress high command probably sensed that the infighting could prove fatal to the final outcome of the Assembly polls and decided not to declare a CM candidate. But, unofficially it handed over the reins of the party to Jyotiraditya Scindia, who was widely seen as the frontrunner for the CM`s post. This had led to resentment among party veterans like Mohan Singh, Kantilal Bhuria, Ajay Singh and former chief minister Digvijay Singh, who had virtually had no say in running the party`s election campaign. Congress` poll campaign mainly wasted time in criticising the BJP government, whereas the CM used this opportunity in reaching out to masses. Chouhan projected himself as an ordinary BJP worker against affluent Jyotiraditya, whom he often addressed as Raja and Maharaja.
The Narendra Modi factor: Although, it is a debatable issue whether BJP`s PM candidate Modi had any impact on polls since he had campaigned in the state in previous polls during which the BJP lost, there is little doubt that he provided a booster dose to Chouhan`s electioneering. Though Modi and other top BJP leaders held a blitzkrieg campaign in MP, Chouhan always projected that it had nothing to do with party`s victory in MP as he was the real target of his opponents. After his emphatic third consecutive victory, he has equalled the Gujarat CM and it can silently revive the Chouhan Vs Modi rivalry - though both have denied this.
Road ahead: Despite being the chief architect of his party`s impressive victory in his state, the Chief Minister faces an uphill task in keeping the party as well as his government on right track. The CM has made several big promises during his poll campaign and faced criticism for not fulfilling most of his previous announcements. He would need to fulfil those. Besides pushing the engine of growth and improving infrastructure, he needs to fulfil his promise of turning MP from a BIMARU state to a developed one. Chouhan will now have to prepare a roadmap to ensure BJP gets maximum Lok Sabha seats in 2014 polls that will facilitate Modi`s dream of becoming the Prime Minister.