Raipur: Voting in Chhattisgarh was conducted in two phases on November 12 and November 20 while the counting of votes will be held on December 11. The term of the 90-seat Chhattisgarh Assembly will be ending on January 5, 2019.
Zee News Maha Exit Poll Live Updates – Telangana, Madhya Pradesh, Rajasthan, Chhattisgarh, Mizoram
Along with Chhattisgarh, elections are also being held in Madhya Pradesh, Rajasthan, Mizoram and Telangana. While elections in Chhattisgarh were held in two phases, the other four states had single phase polls.
The entire election exercise is scheduled to end by December 15.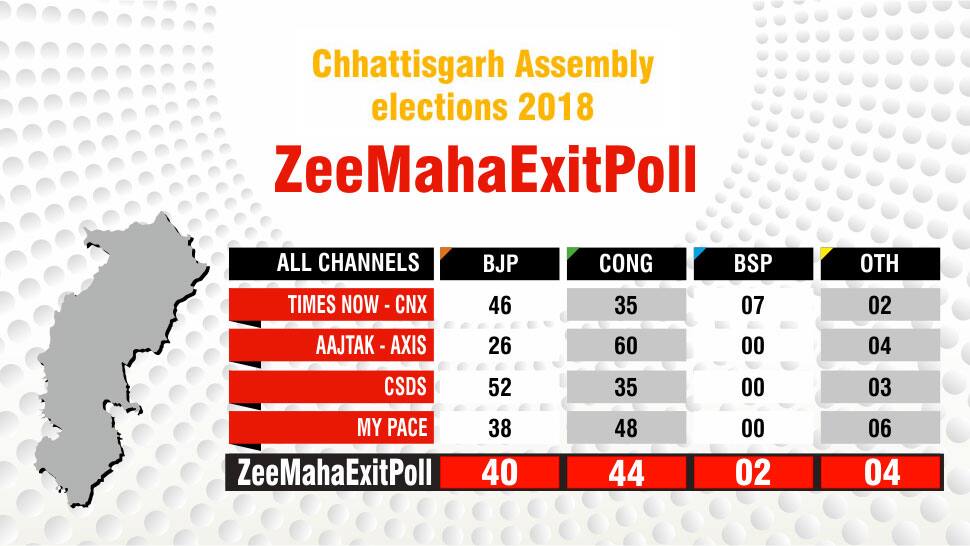 Here are the updates:
* According to My Pace, Congress will win 48 seats in Chhattisgarh while BJP is expected to bag 38 seats and Others will get 6 seats.
* CNX exit poll shows, BJP will win 46 seats, Congress will get 35 seats while JCC and Others will get 7 seats and 2 seats respectively.
* As per Jan Ki Baat exit poll, BJP will get 44 seats in Chhattisgarh while Congress will win 40 seats. The Jan Ki Baat exit polls says that others will get 6 seats in the state assembly polls.
* Axis exit poll says, Congress will sweep the state with 60 seats while BJP will lag behind with 26 seats. Others is expected to get 4 seats.
* ABP-CSDS predicts BJP's win in Chhattisgarh. According to its exit poll, BJP will win 46 seats while Congress to get 35 seats. JCC is likely to get 7 seats and Others to bag 2 seats.