New Delhi: On the auspicious occasion of Makar Sankranti, Pongal and Bihu—celebrities across the country took to Twitter and wished well for their fans. The country celebrates not one but three festivals hailing from respective states in full festive fervour.
If Makar Sankranti dominates the northern belt then Pongal and Bihu are largely celebrated in South and East India. Makar Sankranti marks the transition of the sun into the zodiacal sign of Makara (Capricorn) on its celestial path. It happens to be the first change in the zodiac after the winter solstice.
It is observed as the day which marks the shift of the sun into long days. It is dedicated to Surya Dev i.e sun god and marks the six months auspicious period for Hindus known as Uttaarayan.
The importance of Uttaarayan is exhibited in the Hindu epic Mahabharata, where Bhishma Pitamah waited for the sun to be in Uttaarayan for him to die willingly.
Pongal, also known as Thai Pongal is a kind of thanksgiving festival. It is a four-day festival which according to the Gregorian calendar is normally celebrated from January 14 to January 16. It is perhaps one of the most important festivals celebrated in Tamil Nadu. It corresponds to Makar Sankranti, the winter harvest festival celebrated throughout India.
Bihu festival is related to the crop cycle. It is the counterpart of what's called Vaisakhi in Punjab and Vishu in Kerala. In a year there are three Bihu festivals in Assam—in the months of Bohaag (Baisakh, the middle of April), Maagh (the middle of January), and Kaati (Kartik, the middle of October). 
Here's what the celebrities have to say: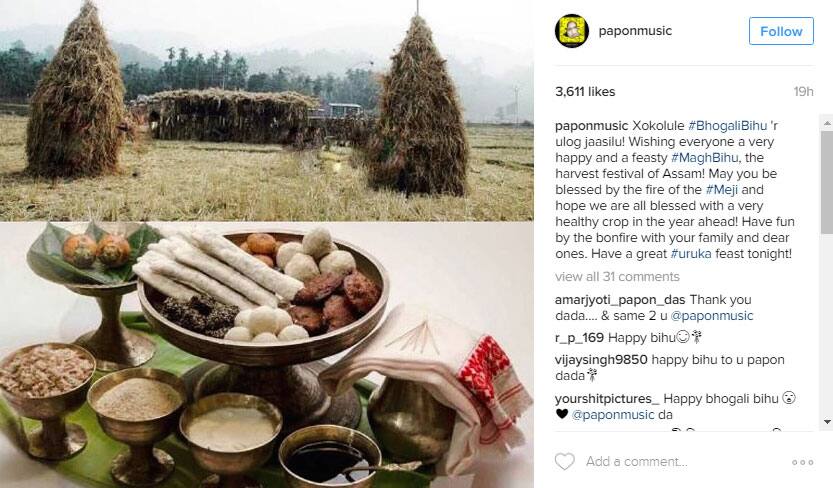 Xokolule #BhogaliBihu 'r Ulog Jasilu! Wishing everyone a very happy and feasty #MaghBihu, the harvest festival of Assam! Enjoy the bonfire!

— papon angaraag (@paponmusic) January 13, 2017
With a new day comes new opportunities. Wish you all happiness on the occasion of #Mahasankranti #Pongal #Bihu pic.twitter.com/F0PL730vyt

— Sanjeev Kapoor (@SanjeevKapoor) January 14, 2017
அனைவருக்கும் இனிய #பொங்கல் தின நல்வாழ்த்துக்கள்.
பொங்கட்டும் தை பொங்கல் pic.twitter.com/uDlBHQS3Fm

— Janani (@jan_iyer) January 14, 2017
Happy feasting and rejoicing!#Pongal #Makarsankranti #lohri #bihu pic.twitter.com/VjjCt31ofq

— Janani (@jan_iyer) January 14, 2017
आप सभी को मकर संक्रान्ति की ढेर सारी शुभकामनाएँ। आपके मंगलमय जीवन की भगवान से प्रार्थना करूँगा।

— Anupam Kher (@AnupamPkher) January 14, 2017
To all my dear friends on twitter pic.twitter.com/QY7XOFUOIe

— Hema Malini (@dreamgirlhema) January 13, 2017
Happy #Makarsankranti guys!! Fly them high fly them safe ! pic.twitter.com/ROU7UuvEzb

— Sooraj Pancholi (@soorajpancholi9) January 14, 2017
Wishing everyone a #HappyMakarSankranti!! . Best wishes and lots of love

— emraan hashmi (@emraanhashmi) January 14, 2017