Indian National Congress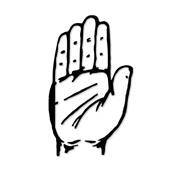 Indian National Congress
INC
Indian National Congress, more commonly referred to as the Congress party is one of the two major national parties with footprint across India. The party has given India seven Prime Ministers, namely - Jawaharlal Nehru, Lal Bahadur Shastri, Gulzarilal Nanda (interim), Indira Gandhi, Rajiv Gandhi, PV Narasimha Rao and Manmohan Singh.

The journey of the party began in 1885 when it was formed to take on the Britishers during the independence movement. After India's independence in 1947, Congress formed government at the Centre and in various states. As of March 2019, the party is in power in six states - Karnataka (in an alliance with the JDS), Punjab, Rajasthan, Chhattisgarh, Madhya Pradesh and Puducherry (in an alliance with the DMK).

The Congress had its worst run in post-independence general election history in the 2014 Lok Sabha election when it was decimated to just 44 seats in the 543-member House. The Bharatiya Janata Party (BJP) won 282 seats creating history by becoming the first non-Congress party to have won a simple majority on its own.

Sonia Gandhi was the president of the party for the longest term for 19 years before she handed over the reins to her son Rahul Gandhi in December 2017. Sonia, who was unwilling to join politics after the assassination of her husband and former prime minister Rajiv Gandhi, had given in to repeated appeals by the Congress leaders to join the party to improve its performance which was going downhill in the late 1990s. She has on several occasions struggled in politics owing to her foreign origins, also a reason why she had to decline to be the prime minister and chose Manmohan Singh instead after winning the 2004 general election.

Her son and Congress president Rahul made an entry into politics in 2004, became the party vice president in 2013 and took charge as the party president in 2017 ending years of speculation over when will Sonia will hand over the baton to him. He has often been subjected to name calling by his political opponents ranging from 'prince' to 'pappu'.

The 2019 election will be a test of mettle for Rahul as this will be the first general election that the Congress will contest under his leadership as the party chief.
Leaders