Akhilesh Yadav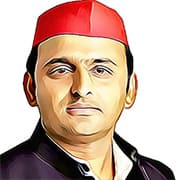 Back in 2012 at the age of 38, Samajwadi Party chief Akhilesh Yadav became the youngest person to have held the office of the Chief Minister of Uttar Pradesh. Born on 1 July 1973 in Saifai in Uttar Pradesh, Akhilesh is the elder son of Samajwadi Party veteran Mulayam Singh Yadav and Malti Devi.

His political journey began in 2000 when he was elected to the 13th Lok Sabha from Kannauj in a by-election. He won the 2004 and 2009 Lok Sabha election from the seat too. However, following the Assembly election result and his appointment as the CM, he resigned from the Kannauj seat and became a Member of the Uttar Pradesh Legislative Council.

His term as the CM ended after the BJP made a comeback in Uttar Pradesh after a resounding victory in the 2017 Assembly elections. Akhilesh, who had stitched an alliance with the Congress for the election, faced a massive defeat and won only 55 of the 403 seats in the state.

Several critics noted that Akhilesh's decision to join hands with the Congress was the main reason for his loss in the Assembly election. In his tenure as the CM, he was credited for his work for the rural sector, increasing job opportunities, giving laptops to students and for being an approachable leader.

Ahead of the 2019 Lok Sabha election, Akhilesh did what many believed was unthinkable. He joined hands with Mayawati-led Bahujan Samaj Party and the two parties agreed on a deal where SP will contest on 37 seats while the BSP will fight on 38. Though the alliance has not joined hands with the Congress, the two party chiefs agreed to leave the Gandhi bastions - Amethi and Raebareli - for the grand old party.

Akhilesh has Bachelors and Masters degree in Civil Environmental Engineering from Sri Jayachamarajendra College of Engineering. He also holds a Masters degree in environmental engineering from the University of Sydney in Australia.

He is married to Dimple Yadav who is a member of Parliament from Kannauj in Uttar Pradesh. She was elected as the MP after Akhilesh vacated the seat to enter the Uttar Pradesh legislative council. With her entry into the Lok Sabha from Kannauj, she became the 44th person in the country and only the fourth in Uttar Pradesh since the Independence to be elected unopposed.