Arvind Kejriwal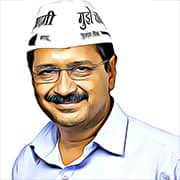 Bureaucrat-turned-politician Arvind Kejriwal has had a colourful run in Indian politics with fortunes swinging more than a pendulum on a galloping horse.
Hailing from Bhiwani district in Haryana, Kejriwal spent his childhood years in Sonepat, Ghaziabad and Hisar. He would make it to the prestigious Indian Institute of Technology (Kharagpur) and work for Tata Steel before clearing UPSC and joining the Indian Revenue Service.
While his resume so far was indeed admirable, Kejriwal was always inclined towards anti-corruption activism. He would jointly establish a movement called Parivartan in 1999 and established the Public Cause Research Foundation in 2006. It was also this year that he was honoured with the Ramon Magsaysay Award.
Kejriwal was a prominent face of protests against corruption in the 2010 Commonwealth Games and a year later, joined the Anna Hazare and Kiran Bedi to form India Against Corruption (IAC).
Despite the massive support for IAC and the Jan Lokpal activists, Kejriwal felt the need to enter politics to see the changes he desired. As a result, he formally launched the Aam Aadmi Party (AAP) which would wedge a divide between him and Hazare.
A year later, AAP contested in all 70 seats in the Delhi Assembly election and managed 28 seats. Kejriwal himself would defeat incumbent CM Sheila Dixit in the New Delhi constituency. He formed a minority government with the outside support of eight Congress MLAs and despite BJP managing to get 31 seats. The government would last all of 49 days before Kejriwal resigned.
With bigger dreams, Kejriwal would throw AAP in the ring for the Lok Sabha election of 2014 and managed to win four seats. In a David vs Goliath battle, Kejriwal himself would lose to BJP's Narendra Modi in Varanasi.
The winds of change blew once again when in the 2015 Delhi Assembly election, AAP secured an utterly impressive 67 of 70 constituencies to put Kejriwal back in the CM's chair.
As CM and as the chief of AAP, Kejriwal has been credited with as many accomplishments as accusations he has been slammed with. And while he maintains that AAP is neither the 'B' team of BJP or Congress, many political analysts feel that contesting on a scale as large as Lok Sabha elections would only end in nightmares for the time being. Can Kejriwal prove them wrong or will the pendulum once again swing away from the AAP in the 2019 Lok Sabha election?