Chandrababu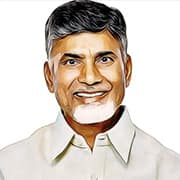 Nara Chandrababu Naidu, currently serving as the Chief Minister of Andhra Pradesh, is the first to have taken over the post since the division of the state in 2014. The president of Telugu Desam Party, he had earlier served as the CM of Andhra Pradesh from 1994 to 2004, before the state was divided.

Born on 20 April 1950, Naidu entered politics at an early age. He joined Youth Congress as a student leader in Chandragiri, near Tirupati. He got closely associated with the Congress after the Emergency was imposed in 1975.

In 1978, he became a Congress (Indira) member of the Andhra Pradesh legislative assembly. Soon afterwards, a 28-year-old Naidu became the youngest minister in the Congress Cabinet when he was appointed as the technical education and cinematography minister in T Anjaiah's government. During his tenure as the minister, he came in contact with popular Telugu film star NT Rama Rao. Later in 1980, he married NTR's second daughter Bhuvaneswari.

In the 1982 election, NTR formed the Telugu Desam Party (TDP) and in the 1983 election swept the assembly polls. Naidu, who contested on a Congress ticket was defeated by a TDP leader. He soon quit the Congress and joined hands with NTR and joined the TDP. In 1995, he went against NTR's wish and took over as the Chief Minister.

After two consecutive wins, the Telugu Desam Party suffered defeats in 2004 and 2009 at the hands of the Congress. In 2014, the TDP joined hands with the Bharatiya Janata Party and Jana Sena Party founded by Telugu film to come back to power in the state and took oath as the first Chief Minister of the divided state of Andhra Pradesh.

He holds many laurels including being the longest serving Chief Minister of Andhra Pradesh from 1995 to 2004. He was also the longest-serving leader of opposition in the Andhra Pradesh assembly.