Mayawati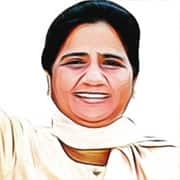 With four terms as the Chief Minister of Uttar Pradesh, Mayawati has the credentials as well as the potential to make an impact in the upcoming 2014 Lok Sabha election.
Born to a post office employee on January 15 of 1956, Mayawati had a humble upbringing which makes her rise in Uttar Pradesh politics even more commendable. After her graduation from Delhi University's Kalindi College, Mayawati got a B.Ed from Meerut University. While she would later get an LLB degree as well, Mayawati was employed as a teacher in the early 1980s and it is during this time that Kanshi Ram was at her home. A young Mayawati left a strong impression on him and Kanshi Ram would include her in his team that eventually founded the Bahujan Samaj Party (BSP) in 1984.
Through the course of 1980s, Mayawati gained critical experience in Indian politics and furthered the prospects of BSP – a party that highly regarded BR Ambedkar and sought to work for the SC, ST and disadvantaged groups.
In 1994, Mayawati was elected to Rajya Sabha and a year later, she became the CM of UP for 137 days before President's Rule was imposed. Till that point in time, Mayawati had the distinction of being the youngest-ever CM in India.
Mayawati would return as CM in 1997 and then again 2002 and 2007. In 2012, she sent her resignation to the UP Governor after BSP lost its majority to SP – making her the first-ever UP CM to have completed a full term in office.
Behenji, as she is lovingly called by her supporters, took complete command of BSP after Kanshi Ram's death in 2006. She had already been announced as his successor by Kanshi Ram.
Over the years, Mayawati has received much appreciation for her work for the downtrodden, fighting crime and for development-related work in UP. She has also been widely and repeatedly slammed for having indulged in corruption, for spending public money in crores for parks across UP. She has been accused of disregarding public servants and of brazen display of money during key celebratory events. Mayawati, however, maintains that the funding for BSP comes from lakhs of supporters and not through unscrupulous means.
Support has meant very little for BSP in recent years with the party being absolutely decimated in the 2014 Lok Sabha election. Many questions were raised about how, if at all, Mayawati would reclaim her lost glory. And it is perhaps to reclaim this lost glory, Mayawati joined hands with nemesis Akhilesh Yadav.
Critics call it an unholy alliance.
Supporters hail the setting aside of differences.
At the end, how India votes would decide.