Narendra Modi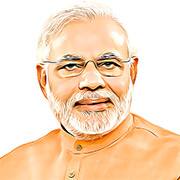 Narendra Modi became the fourteenth Prime Minister of India in 2014 after the Bharatiya Janata Party's (BJP) landslide victory in the Lok Sabha election. The BJP's victory in the election was much to the credit of the 'Modi wave' that had gained momentum as the party's campaign in the run-up to the polls grew.

Before being named by the BJP as the party's PM face ahead of the election, Modi was the longest-serving Chief Minister of Gujarat. He was appointed as the CM in 2001 and went on to serve the state for a record four terms as its Chief Minister.

Several new several initiatives have been added to his credit during his tenure as the PM. A few of his pet projects include 'Make in India', 'Digital India' and 'Swachch Bharat' initiatives.

Born on 17 September 1950 in a small town in Gujarat, he belonged to the other backward class. He is the third of the six children born to father Damodardas Mulchand Modi and mother Heeraben. He has often spoken of his humble beginnings, which he says included him working as a chai-walla (tea seller).

In his initial years, he worked as a member of the Rashtriya Swayamsevak Sangh (RSS) before joining the BJP. He completed his higher secondary education in Vadnagar. As he has often stated in his interviews, he left home at a young age and spent around two years travelling across Northern and North-eastern India.

He began his journey in active politics at the age of 37 after joining the BJP in 1987. Within a year of joining the party, he was appointed as the general secretary of its Gujarat unit. In 1995, he was moved to national politics when he was made the party's national secretary. In 2001, owing to the then CM Keshubhai Patel ill health and resignation, Modi was asked to move back to Gujarat to take charge of the state as the Chief Minister.