Sharad Pawar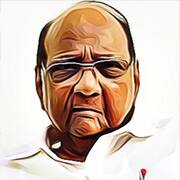 Sharad Pawar is a seasoned politician who has seen the highs and lows of Indian politics through a career spanning five decades.
In these five decades, Pawar has been in and out of the Congress party before eventually forming his own Nationalist Congress Party in 1999. Apart from politics, he has served important roles in various sports associations, including Mumbai Cricket Association, Board of Control for Cricket in India and the International Cricket Council.
While his association with sports organsations has been much written about, it is political career that has largely made headlines and been a matter of intense analysis over the years.
Born in a family involved in agriculture on December 12 of 1940, Pawar was one of eleven children. During his formative years, Pawar was involved in student politics which would pave the way for a full-fledged career in politics.
Representing Baramati, Pawar became an MLA for the first time in 1967 as a Congress member. In 1978 and in the aftermath of the landmark 1977 Lok Sabha election which saw Congress' first-ever defeat, Pawar would break away to join Indian Congress (Socialist) which, in turn, joined hands with the Janata Party. The coalition called Progressive Democratic Front would form the government and hand Pawar the CM's post for the first time.
In 1984, Pawar secured his first Lok Sabha election win from the Baramati constituency. A year later, he won the state assembly election and said that he would rather concentrate on state politics than have a more national role for himself. He became the leader of opposition after Congress (S) won 54 of the 288 seats in Maharashtra.
The winds of change had begun blowing once again by 1987 and Pawar returned to Congress (I). The then Maharashtra CM in Shankarrao Chavan was given a place in the Union Cabinet and Pawar was made the CM in his place. The threat from Shiv Sena too had begun to ferment in the state and one of the key responsibilities given to Pawar was to keep a watch.
By the early 1990s, and after the assassination of Rajiv Gandhi, Congress had begun considering Pawar as a potential PM candidate. In the end, PV Narasimha Rao was named PM who, in turn, named Pawar as the Defence Minister. Eventually, Pawar would be sent back to the role of Maharashtra CM after Sudhakarrao Naik put in his papers.
The mid 1990s saw BJP-Shiv Sena take massive strides in Maharashtra and this, alongwith charges of corruption against Pawar and in-fighting within Congress – led to Sena's Manohar Joshi taking over as CM in 1995. This would eventually prompt Pawar to once again turn to a more national role – a decision he took after winning the Baramati seat in the 1996 Lok Sabha election.
With unwavering ambitions, Pawar would challenge Sitaram Kesri for the right to be Congress Party President. It was not to be. Instead, he served as the Leader of Opposition in the 12th Lok Sabha.
The cornerstone of Pawar's political career was when he once again parted ways with Congress to form the Nationalist Congress Party. He, PA Sangma and Tariq Anwar were staunchly opposed to Sonia Gandhi who had taken over as Congress President. NCP and Congress, ironically, had to form a coalition Maharashtra state government because neither had the majority required.
By the time 2004 Lok Sabha election came calling, Pawar opted to tag-team with Congress once again. He was made Minister of Agriculture in the Manmohan Singh government. He retained this portfolio in 2009 before announcing that he would not contest the 2014 Lok Sabha election.
Indeed, Pawar has made many crucial decisions which have shaped not just his own political career but the prospects of Congress, NCP and Shiv Sena – one way or the other. He has also had a lasting impact on Maharashtra state politics and can still impact the politics of the entire country – again, one way or the other.