Rama Sreekant talks to Princess Vidita Singh about her love for automotive art
She was a font of calm and composure when I first met her at the Royal Fables exhibition in Mumbai. Her subtle grace and unique style was something you couldn't miss. Meet Princess Vidita Singh of Barwani. Brought up in a family of automotive enthusiasts and being surrounded by some of India's best vintage and classic cars during her childhood, it is not surprising that Vidita Singh is India's leading automotive artist. Like her father His Highness Manvendra Singh, a renowned automotive historian and restorer, Vidita feels a passionate need to preserve India's automotive history and tradition. And, she does this through her canvases. At the exhibition, when Vidita handed out her card to me, what caught my attention was its simplicity—nowhere did the card carry the suffix Yuvrani or Princess, all it said was 'Automotive Artist Vidita Singh'. The obvious reaction was, "Wow".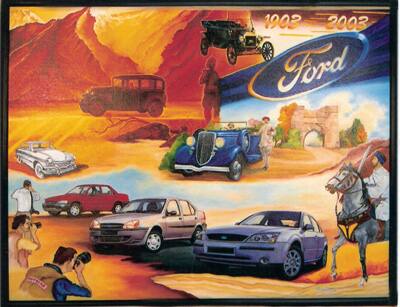 "I do not have formal training in Fine Arts. I am a self-taught artist, but I have taken short courses on improving my technique and understanding different mediums," says the princess. She recalls, "I began automotive paintings when I was 17-years-old, before that I was only painting flowers, landscapes and horses". Her Eureka moment arrived when her father saw one of her car paintings. "He commissioned me to illustrate one of his articles. It was a Fiat Corsa and just a steering wheel of a car, with a lady driving. At that moment I decided to become an automotive artist," says Vidita.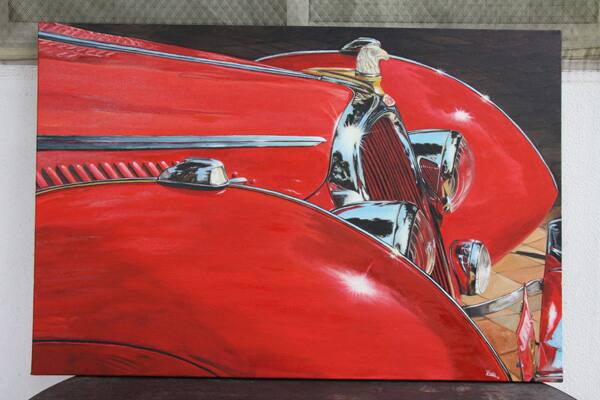 An artist with a Masters in Art History, Vidita was encouraged by her family to do something meaningful with her life and carry forward the royal lineage in newer ways. His passion for classic and vintage cars, and vast knowledge about them inspire her artistic endeavors. Cars have always been the most talked about topic in any royal family. And Vidita's was no different. They have always had a huge collection of vintage and classic cars. "I see the beauty in their form and like to bring it out in my artwork," admits Vidita, whose obsession with cars is all about the aesthetic appeal and not much the mechanical. Vidita likes using traditional mediums like oil on canvas and charcoal. She believes that these traditional mediums give her art an old-world charm and facilitate her to express her passion on canvas. Her collection ofartworks include Rolls-Royce, Bentleys, Duesenbergs, Corvettes and other timeless beauties, painted in the background of royal palaces, hills and hunting scenes. "My most recent works have been mostly depicting close-ups of cars with an emphasis on the wheel or the fender or may be the mascot. I have also forayed into developing the concept of wearable art—pocket squares and scarves with car motifs as well as decorative art—which include car-themed cushion covers," she shares.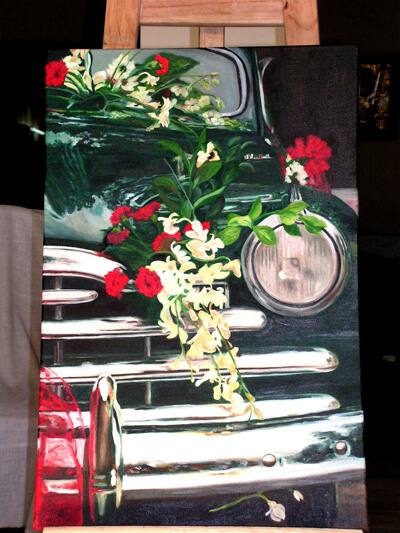 Her favourite is the painting of a Bentley with horses at a polo match. "It has subtle colours, but it is the composition that makes the difference," says Vidita, who believes that being born into a royal family allowed her to follow her dreams and passions.
Vidita's most challenging painting was the one she did for Ford Motor Company, for its 100 year celebration in India. "I made a collage for them depicting Ford's history in India." Art is subjective, according to her. "For me it can be anything with aesthetic appeal, such as the reflection of clouds on chrome bumper of a classic car". Vidita has exhibited her works in Mumbai and New Delhi; international exhibitions are in the offing.