Hippie glam? Sporty stylings? The nude look? Radhika Dhawan finds out
2104 was quite the year in fashion, with nomcore—the desire to fit-in rather than stand out—taking over, even as Jeremy Scott made outlandish haute couture statements with McDonald's and Spongbob on Moschino and Anya Hindmarch dished up breakfast-cereal-inspired handbags.
Rolling into 2015, runways are brimming with indications of upcoming trends. A bevy of themes from the past are likely to be upgraded and presented afresh; here are a few that will take you through the year in style:
Valentino jeans? Yes, please.
Is it an upgrade from nomcore or just the fact that this is one of the most versatile fabrics? Denim is going high fashion with a multitude of interpretations. From labels like Michael Kors, Kenzo, Chloé, Stella McCartney and Burberry to the unexpected Valentino and Bottega Veneta, big brands are putting their customers in embellished, washed out, distressed, ladylike silhouettes, or just plain comfortable denim jackets, tunics, shirts, skirts, jeans and suits.
According to Anushka Khanna, who has designed embellished denim bombers says, "Denim is a really big trend, both in India and internationally. Which woman can say her wardrobe doesn't contain something in this fabric?" Rajesh Pratap Singh and Raakesh Agarvwal also offered interpretations of this trend in their collections.
Check it out
Yes, we all wore checks at some point and they could be reminiscent of our school uniforms and picnic baskets; but when Oscar de la Renta, Altuzarra, Diane von Fürstenberg, Péro by Aneeth Arora and Nachiket Barve put their twist to it, you have the new print for the season. The grown-up version of the gingham pattern in light-weight fabrics and pastel shades will let you breeze through the summer in style. It also makes a great nonchalant print for the festive season.
 
Sports luxe
This athlete-inspired look isn't disappearing anytime soon, so keep popping those collars. The last few seasons have witnessed the evolution of this theme from a slouchy, comfort-driven look to a subtly athletic, more luxe one.
Last year, Alexander Wang and H&M introduced 'athleisure' to the world, making gym wear acceptable in social situations. Namrata Joshipura, Huemn and Yogesh Chaudhary did a stellar job bringing the sporty look to the runways. In 2015, Jean Paul Gaultier, Topshop Unique and Carven have upgraded the look to make it more luxe. On home turf, Sanchita Ajjampur nailed the look yet again this season.
So, don't save your sneakers just for your trainer. Wear them with that skirt and Chanel bag.
That '70s show
2015 will see the 70s make a major comeback. The ubiquitous flare pants, fringe details, jumpsuits, bohemian silhouettes, flower power and vivid colours highlight this revival. It's time to bid adieu to your skinnies. Flared pants, which were in the limelight, at the DVF, Derek Lam, Alice+Olivia and Carolina Herrera shows, are set to be all the rage. Hemant and Nandita, like Givenchy and Proenza Schouler, showcased fringe details as well as rounded sunglasses that hark back to the '70s. Naeem Khan's glam shimmery jumpsuits make me want to throw a disco-themed party.
Florals aren't the most groundbreaking trend, but when the highest echelons of fashion embrace it wholeheartedly, who can say 'No'? The blooms this season are bigger and more aggressive. Celine, Chanel, Dolce & Gabanna, MaxMara, Henry Holland and Simone Rocha are all endorsing flower power. You must look out for Marni and Fendi's floral bags. Péro, thinking out of the box, has recreated an entire garden party for the show.
Shirt dresses
This is another trend with the flavour of nomcore; I highly recommend incorporating the shirt dress in your wardrobe now! Rixi Bhatia of Quirk Box concurs, "The classic silhouette is now a dress. In lightweight fabrics—cottons, linens, soft silks—and subtle hues, the shirt dress is perfect for an elegant summer look."
Altuzarra, Charlotte Ronson and Rebecca Minkoff all have their own versions of this trending garb. Find one that suits you–classic button-down, Chinese collared or with an asymmetric hemline, in lengths that vary from knee skimming to ankle covering.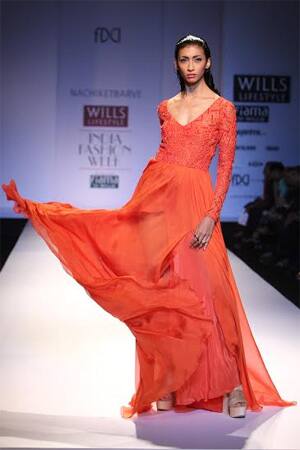 Colours
The colour palette this year, ranges from shades of orange to pastel hues to varied shades of white. If you have to choose just one colour in the new year, let it be white. International runways saw models being sent out sporting head-to-toe white at the Victoria Beckham, Marc by Marc Jacobs, Balenciaga, Donna Karan and Ralph Lauren shows. The trick to being chic in all-white next season is mixing textures or different shades of the hue. Wendell Rodricks, Samant Chauhan and Pallavi Mohan kept it clean with all white, whilst focusing on the silhouette and the detailing.
Orange is the new black and I'm not talking about the Emmy-winning show. Shades of orange–burnt orange, tangerine, coral–ruled the runways at Nachiket Barve, DKNY, Anupama Dayal, Louis Vuitton and Coach.
Atsu, Burberry, Haider Ackermann, Opening Ceremony and 3.1 Phillip Lim opted to tone it down a bit and went with sorbet hues.
Make-up and Hair
Just like the attire, you can't go wrong when it comes to hair, this year. There's a lot of hair being left to flow free, with center parts and different textures—sleek and straight or messy waves—everything works. The previous year was all about braids and that is expected to continue. Messy braids or braids with different textures are ideal for the summer.
Fresh-faced looks with minimal make-up are in, this year. YouTuber Scherezade Shroff reiterates, "Fresh make-up! Love how less is more for 2015". According to Scherezade, strong brows will be around for a while.
Accessories
Jewellery appears to be no different. Although minimal jewellery is in for 2015, Riddhika Jesrani of the eponymous jewellery brand says, "tatement necklaces don't seem to go away. Lanvin, Tom Ford and Jason Wu—all seem to love them even for next season. Big chunky earrings are also in. Marni, Loewe and Louis Vuitton are all looking at statement earrings".
You can't go wrong with a lot of layering with chains and tiny-beaded necklaces. Also, continue blinging it on. Riddhika believes that although gold has been in style for a while now, it will continue to be worn. However, If you'd like to try something different, try wearing a single earring or two mismatched ones.
This next season offers options galore. Soak them all in, but choose to wear only what you love. Remember to give each trend your mark of individuality.