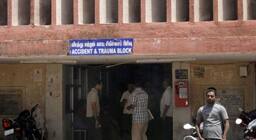 New Delhi: Two decades after it was set up to rush accident victims to hospital, the Centralized Accident and Trauma Services (CATS) doesn`t respond to a quarter of the calls due to shortages of ambulances, a study by the AIIMS has found.
The study, conducted between May 2009 and June 2010 on CATS control room records, found that 28 percent of the calls received in a month were not responded to.
Not only is the Delhi-government administered CATS worfully short of ambulances -- it has 43 -- but there is lack of coordination between the various organisations that deal with road accident victims, the study said.
The CATS central control room can be reached on toll free number 1099. Calls are also received through Delhi Police and Delhi Fire Service on 10 different lines.
After reaching the victim, the ambulance service has to communicate with Delhi Police, Delhi Fire Service or any governmental agency.
"We found there is no coordination between the partner organisations involved. And because of this we lose very crucial time that could have saved a life," said Shakti Kumar Gupta, chief of hospital administration at the All India Institute of Medical Sciences (AIIMS).`
Gupta co-authored the study along with Angel Rajan Singh, the institute`s senior resident administrator.
"There is a long gap between reality and what we need. To have a proper ambulance reaching in time is the most basic aspect of healthcare," Singh told IANS.
The home ministry says 7,516 people lost their lives in the capital due to road accidents in 2009, one of the worst years in the recent past.
While AIIMS said it shared the study with Delhi government in 2011, an official in the directorate of health services denied this.
"We have not received any study from AIIMS. There is a proposal on getting more ambulances but it is uncertain when that plan will be finalised by the Delhi government," the official told IANS.
"Firstly, the plan to get more ambulances is still in the files. Once it moves ahead, we will think over getting advanced life support (ALS) or Basic Life support (BLS) systems," the official said.
IANS