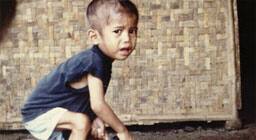 Bhopal: Around 73 percent children below six years in 10 slum localities in the financial capital of Madhya Pradesh are malnourished, reveals a survey conducted by an NGO.
The NGO Deenbandhu Samajik Sanstha conducted the survey between July 2011 and December 2011.
"Urban poor in city live in adverse conditions. Moreover, denial of legal status to the slum settlements has made their situation precarious. Not acknowledging slum dwellers has pulled down the status of health and nutrition," said project head, Belu George.
The survey claimed that of the 730 children covered, 533 (73 percent) are under the grip of varying degrees of malnutrition. Of them, 187 (35 percent) are severely malnourished (first degree malnutrition), 219 (41 percent) are in the category of second degree, 93 (17.5 percent) are in third degree and 34 (6.5 percent) are in forth degree of malnourished category.
The study showed 35 percent children are mildly malnourished, 40 percent are moderate and remaining 25 percent are in severe malnutrition category.
The NGO has attributed non-availability of pure drinking water, healthy food and lack of facilities of anganwadis as major reasons for the high number of malnourished children.
Madhya Pradesh tops in the survey of the country`s most malnourished kids below six years, accounting for 52 percent.
IANS