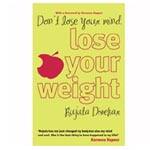 Smita Mishra
Kareena Kapoor's size zero is the latest fashion fad. Everyone wants to get wafer thin…look young and sexy. But where is that perfect recipe that is filling and also makes you look hot? What concoctions, what ingredients taken in would make that appealing hour glass figure? Rujuta Divekar, Kareena Kapoor's celebrity dietician, seems to have the answers.
In her book Don't Lose Your Mind Lose Your Weight she reveals the secret of Saif Ali Khan's hot bod, Sonali's post pregnancy glam look and Karishma's new sexy avatar.
To look in shape, you need not starve yourself, she tells her readers. Nor is it needed to burn the last remaining drop of your body fat by torturing yourself in a gym. No crash dieting, no all fruit diet, no carb deprivations and no curb on cravings, the author allows all…but in moderation.
"My entire philosophy is `eating centric` and not weight loss or starvation centric," Rujuta told spicezee.com on the charge of making Kareena anorexic
She reminds of Buddha teaching the middle path. "Ati Sarvatra Varjayeta" seems to be the philosophy guiding her. So for the disbelievers and the incredulous, the best option is to go through the book where Rujuta has busted a number of modern myths and taught the lesson of love…for the body.
Is it right to load the stomach beyond capacity, when it has been made by nature in such a way that it can accommodate only two fistfuls of food comfortably? And if there is nothing called "Stomach attack," should we keep attacking the stomach, the author makes us introspect.
"Know that we have been blessed with abundance and with enough food to eat. It's just that we have abused this blessing. So let's stop the abuse first," she told Spicezee.com
Rujuta exposes the truth of antacids and laxatives that have become such an inalienable part of the modern life style. She, with interesting examples from the vast treasure house of her experience, shows how most of us "misbehave" with our systems on the pretext of keeping it fit.
Honey and lime, sex, magic pills, pre menstrual cravings and Indian style toilets - she has spoken about all with the frankness and ease of a physician.
The words that most of the dieters use without really understanding them have been explained by Rujuta with the proficiency of an expert. So when she talks about carbs, proteins, fats, supplements, minerals and vitamins one is amazed by her understanding and grip on the subject.
That the writer knows her business and is an expert at it can be discerned by going through just a few pages of the book.
The language is not literary and the style is conversational. With occasional insights into her own life and the goings in the world around, the author manages to keep the reader hooked.
But why should one go for this book only when a variety of tips are available in the market on weight loss, including works of eminent foreign experts?
The reason is: Rujuta doesn't ask all her readers to follow a ready made diet chart. Just as one size of cloth does not fit all, in the same way one diet plan cannot be applicable on every one. First she educates her readers and then gives a flexible solution that can be moulded by individuals as per their own requirements.
The book attempts to empower you with crucial yet overlooked information about how your body works and why we need to feed it the right food at the right time. It puts the responsibility of eating right on the shoulders of the reader and encourages you to come with your own `eating plan`.
So when the expert speaks, and speaks with such conviction and with such rich experience to boast of - she is the personal dietician of Kareena, Amrita Arora, Saif, Anil Ambani etc-, it must be listened to, especially when it's so easy on pocket. Rs 199 for a book that can change your life is no cost to even speak about. So don't lose your time now, go for "Don't lose your mind…".