With smartphones becoming a necessity and an inseparable part of our daily lives, a lot of smart apps are helping us communicate better and efficiently. 'addappt' is one such application that makes communication easier.
Mrinal Desai, co-founder and CEO, addappt, tells Deepak Nagpal of Zee Digital why the app is a better alternative for your traditional phone book, how it helps communicate with a single 'tapp' and also how it protects your privacy.
What is addappt? Explain it for our readers. And how is it different from other messaging apps like WhatsApp, Skype etc that send messages over Internet.
On Apple Watch, iPhone and Android, addappt is a free replacement for the phone's address book which is 'live' - it automatically updates when your friends change their contact information. addappt also provides one 'tapp' messaging.
It provides 'smart' favourites, complete group support with an ability to send e-mail or text the group.
addappt's messaging is for short bursts of quick communication that we use frequently. For example, users can customise and send a 'Please Call Me' (instead of a 'missed call'); 'Running Late'; 'Leaving office now'; 'Happy Birthday' with one tap or even an emoji (reorders based on use) with one tap to say 'I am thinking of you'.
For folks sharing or paying for data plans for their children and/or family or employees, addappt is a much better alternative since it does not support photos/ videos, links (ensuring limited data usage) and yet at the same time, it can be used for messages like 'Reached Safely' or sending an emoji regularly with a single tap keeping parents informed. Furthermore, there are no big group distractions with large unread messages that need to be downloaded or consume photos and videos which quickly use up a lot of expensive data.
Groups of unlimited size can use it to send notifications (like a small business, a class, neighbours, close friends, cricket club, wedding party etc) - 'Meeting this Monday at 9 am'; 'Class cancelled'; 'Next week class rescheduled to 11 am'.
The messages are 100 characters long only and not stored in the app (or on our servers) to save storage on the phone, use very little data and provide more privacy.
It (the app) has been recognised globally by CNN, Forbes, The Wall Street Journal, The New York Times, BBC and many more including some big publications in India.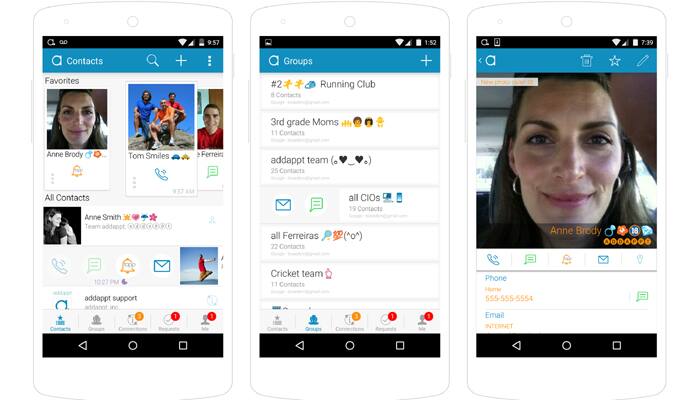 Do you think apps like addappt can become an alternative to messaging in future?
We see addappt's messaging as a better productivity tool for those who communicate frequently amongst each other - family, close friends, a small business, a class, a sports club, a cricket team etc - and want to save money on data bills. When used to send group 'tapp' messages (available on iPhone and coming to Android very soon), we see it as a powerful custom notification service for an individual.
Until now, apps used to send notifications - now, with tapp, anyone can send a notification (ie 'broadcast') to as many people as they want… there is no limit to the group size. Furthermore, there is no 'cc' list and recipients receive it as if you sent it to them individually… a perfect example would be to send 'Happy Diwali' for example - No recipient would know you sent it to all.
Since it is a very light form of messaging, we see a possibility in expanding 'tapp' messaging as a simple standalone 'unbundled' option on various platforms.
We have already done that with the Apple Watch for example - the app on it is purely to use 'tapp' messaging with your favourite contacts.
How do you plan to reach those who still use basic phones or do not use mobile Internet?
We are fundamentally a replacement for the phone's contact list - addappt is the best alternative to that list with or without your friends using addappt and with or without mobile Internet - only friends' contact info updates and tapp need data connection.
Without Internet/data, you can still send traditional regular SMS to anyone in your contact list and, unlike many other messaging apps, call any contact in your list over your regular phone network, via the operator, like one would expect from any address book. tapp is just another messaging choice in that address book.
Finally, we have intentionally focused on being a short form messaging service with no storage, photo/video support - tapp uses very little data compared to all other messaging services.
Since any message/notification sent via addappt cannot be traced back as the same is not stored on server, do you think such form of communication can also pose risk to national security?
We definitely don't see that, since tapp messaging is very short (100 characters only) and not the best way for sharing information that you wish to retrieve, look at again, be descriptive or very specific.
What do you think will be the next innovation in app-based communication? Or have we already exhausted all options?
I definitely believe there is a lot of innovation yet to happen. In fact, we have an exciting product roadmap ahead for tapp!
If you consider the current wave of messaging like WhatsApp etc, it is not a new form of communication - it's our good old SMS/texting "addappted" to a new form factor using a different protocol which disrupted an inefficient business model.
The growth of emoji, and its variations as being attempted on wearables, as a visual universal messaging language is extremely fascinating - our appetite for communication and acknowledgement keeps increasing… and to make room for that, inefficiencies will be removed. And no, I am not talking about an emoji only messaging app :)
Do you see smart apps dominating mobile usage in the near future? What is your message to innovators developing apps for mass usage?
Yes, and I believe it is already happening with over 85 percent time on smartphones being used on apps (Source: Forrester Research, 2015).
One of the hardest things to do when building a product for mass usage with fantastic opportunities in upcoming markets like India is making everything obvious and easy for those using smartphones and the Internet for the first time. A significant population is coming onto the Internet directly (bypassing the desktop) on the phone, so unlearning and discarding baggage (desktop experience) become very important for developers like us.
Also, something hard to do for all of us is to not to fall into the 'self-reference' trap. Since we are creatures of our experiences, we often design and think of innovations with those "limitations".
It is with a lot of this thinking that we named our company, addappt.
The app can downloaded here for free: addappt.com/download