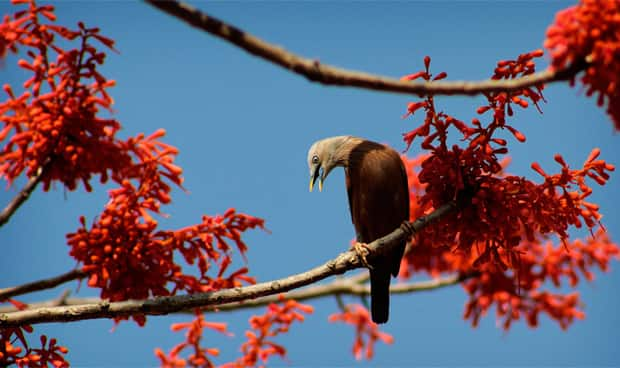 Akrita Reyar
Come March-April and change is upon us. The frigidness of the weather outside is replaced by millions of smiling blooms. We look forward to it with eagerness; Spring after all brings freshness and youth to earth, a hope to revitalise its limbs and soul frozen by the extremity of a glacial winter.
But while spring lasts only a quarter of our one journey around the Sun, change remains a constant; for there is no constant as constant as change.
The 'theme of change' itself has been contemplated by poets and authors in a thousand myriad ways; some with hope and others with much loathing. Or as Roman emperor and philosopher Marcus Aurelius had said, "Loss is nothing else but change, and change is Nature`s delight."
This is beautifully depicted in the poem 'Change Upon Change', where Elizabeth Barrett Browning talks about finding love and losing it:
Five months ago the stream did flow,
The lilies bloomed within the sedge,
And we were lingering to and fro,
Where none will track thee in this snow,
Along the stream, beside the hedge.
Ah, Sweet, be free to love and go!
For if I do not hear thy foot,
The frozen river is as mute,
The flowers have dried down to the root:
And why, since these be changed since May,
Shouldst thou change less than they.
And slow, slow as the winter snow
The tears have drifted to mine eyes;
And my poor cheeks, five months ago
Set blushing at thy praises so,
Put paleness on for a disguise.
Ah, Sweet, be free to praise and go!
For if my face is turned too pale,
It was thine oath that first did fail, --
It was thy love proved false and frail, --
And why, since these be changed enow,
Should I change less than thou.
At a psychological level, we sometimes wonder how things would be if our circumstances were changed, we were born in another country or into another family or at another point of time.
Interestingly, Franz Kafka, wrote a seminal piece exploring transformation in the middle of life. In his novella The Metamorphosis, the German author tells a story about a travel weary salesman, Gregor Samsa, who wakes up one day to find himself turned into a monstrous vermin. Though he was one of the main bread winners of the family and very caring by nature, with dreams of sending his sister into a conservatory for higher education in playing the violin, the moment he turns into a giant insect, the family is not only appalled but slowly begin to see his existence as a burden. His eventual death comes as a relief to them.
While Metamorphosis on the face of it looks like a flight of fancy of a writer, Kafka intended to showcase out the horrors of capitalism through it and show it as a propeller of inevitable change that heralds with it materialistic aims and loneliness.
On the other end, Oscar Wilde explored how it would be if there were no transformation at all. His Gothic novel, 'The Picture of Dorian Gray', is about a young handsome man whose portrait has been made by artist Basil Hallward. So impressed is Basil by Dorian`s beauty that he becomes infatuated with him, while Dorian's encounter with Lord Henry Wotton imprints on his mind the view that beauty and fulfilment of the senses are the only goals worth pursuing and living for.
Dorian sells his soul to ensure that he would remain perennially young even as his portrait shows signs of age.
Oscar Wilde wrote: "Was it really true that one could never change? He felt a wild longing for the unstained purity of his boyhood-- his rose-white boyhood, as Lord Henry had once called it. He knew that he had tarnished himself, filled his mind with corruption and given horror to his fancy; that he had been an evil influence to others, and had experienced a terrible joy in being so; and that of the lives that had crossed his own, it had been the fairest and the most full of promise that he had brought to shame. But was it all irretrievable? Was there no hope for him?"
Even as Dorian Gray`s wish is fulfilled, he indulges in a life of base fulfilment that served to excite his senses and while he remains physically untarnished, the effect of his each act of debauchery leads to a disfigurement of his picture.
On diametrically opposite latitude, Doris Lessing lucidly brings out the mental state of a lot of older people, for whom change is actually only skin deep. Lessing says: "The great secret that all old people share is that you really haven`t changed in seventy or eighty years. Your body changes, but you don`t change at all. And that, of course, causes great confusion."
Going from the physical realm to change of periods, we see there are some epochs that stand out as turning points in a nation or even the world.
In England, for example, the Victorian period was seen as a time of great change. Queen Victoria's reign witnessed major political upheaval and brought also the Industrial Revolution that transformed the social and economical landscape, lending fertile ideas of an incalculable degree for writers and thinkers like Charles Darwin. As has been witnessed in history, Industrial Revolution eventually changed the world and scientific inventions and new thought processes of that era paved the way for the establishment of a new world order.
Later in two different parts of the planet, two great minds said one very similar thing. Leo Tolstoy had said: "Everyone thinks of changing the world, but no one thinks of changing himself." which was keenly echoed by an introspective Mahatma Gandhi who said: "Be the Change you want to see in the world."
But in midst of the whirl that surrounds us, the hum of steady and unwavering alteration, for many of us - the common folk – it's the popular and lively tune written by the Jay Livingston and Ray Evans songwriting team that sums it all: Que Sera, Sera (Whatever Will Be, Will Be).
For a vast majority of humanity that's just the way of life.