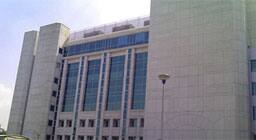 New Delhi: It was a tough choice for 20-year old Haya Fatima to make: choose between a surgery and exams in the same month.
Thanks to advanced robotic surgery, the Lucknow girl was operated by a high precisioned robot for a complicated medical condition and discharged within 48 hours, doctors at a Delhi hospital said here Friday.
Said to be Asia`s first robotic surgery for diseased blood vessels, the engineering student is among 30 patients to be operated in the first month of Gangaram Hospital`s Institute for Robotic Surgery (IRS) in the capital.
"I had been told by a hospital back home that the only option I had was an open surgery - which might even leave me on ventilator or with scars all over my body. The mental burden was such that I felt it was better to have survived with the disease than to go for that mode of surgery," Fatima, who did not know about the option of robot surgery, told.
Suffering from Myasthenia Gravis for 3 years, the medical disorder left Fatima weak and exhausted as the body muscles were affected. It was at a routine consultation at the Delhi hospital that Fatima prepared her mind for robotic surgery in a short span of four hours.
The silver lining: a robot conducts the surgery proving to be minimally invasive and quick healing, say experts.
"This is the first robotic surgery in Asia for vascular disease. The advantages are that it is minimally invasive, reduces the risk of infection and shortens the recovery period," said Arvind Kumar, director of IRS.
The robot - Da Vinci Si surgical system - consists of a set of four arms, two to operate, one to hold the camera and the fourth one for assistance. These arms are mounted on a platform and are controlled by the doctor sitting at the control panel. The panel consists of an eye piece which gives a three-dimensional view and two joy-sticks to move the robot`s arms.
The movement of the robot`s hands is same as that of the doctor, making the procedure simple. The surgery also gives the doctors a three-dimensional view.
"The robotic arm is designed in such a way that it can reach the interior part of the organ curvature, which is not possible in conventional or laproscopic surgery without damaging the normal tissues," Kumar explained.
While robotic surgery has been in use for thoracic, bariatric, urology and gynaecology, vascular robotic surgery is a relatively new intervention. The surgery, conducted April 7, cost the family around Rs.2 lakh.
IRS is slated to have a clinical division, soft skills and research division and a technology development division.
IANS