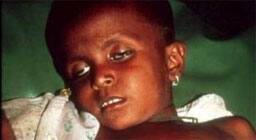 New York: Scaling up simple interventions to control diarrhoea and pneumonia can save more than two million children in poor and developing countries, including India where over six lakh kids under five years die every year due to the two preventable diseases, a UNICEF report said Friday.
According to the report, pneumonia and diarrhoea, the two biggest killers of children, killed about 2,197,000 children under five years of age in 2010, making up 29 per cent of all child deaths under age five worldwide.
And with 609,000 deaths India topped the list of the 75 countries with the highest mortality burden attributed to the two diseases, it said.
The report also noted that about half the world`s deaths due to pneumonia and diarrhoea occur in just five mostly poor and populous countries such as India, Nigeria, Democratic Republic of the Congo, Pakistan and Ethiopia.
However, simple interventions such as introducing routine vaccination programmes could save lots of lives in the coming year, the report said.
"We know what works against pneumonia and diarrhoea ? the two illnesses that hit the poorest hardest," UNICEF Executive Director Anthony Lake said in a release.
"Scaling up simple interventions could overcome two of the biggest obstacles to increasing child survival, help give every child a fair chance to grow and thrive," he said.
One of the simplest, most effective ways to safeguard babies from disease is exclusive breastfeeding. "Yet fewer than 40 per cent of infants younger than six months of age in developing countries are exclusively breastfed, depriving them of this critical protection," the report said.
Promoting hand-washing; enhancing access to safe drinking water and sanitation; and disseminating oral rehydration salts to children with diarrhoea and antibiotics to children with bacterial pneumonia are the other simple ways to combat the diseases, it noted.
Water and sanitation is another key hurdle, with 783 million people globally not using an improved drinking water source, and 2.5 billion not using sanitation facilities.
"Nearly 90 per cent of deaths due to diarrhoea worldwide have been attributed to unsafe water, inadequate sanitation and poor hygiene," said the report.
The report also noted that nearly 1.1 billion people in
the world still practice open defection, another major driver of diarrhoea, and more than half of them live in India.
But "child deaths due to pneumonia in these countries could fall 30 per cent, and child deaths due to diarrhoea could fall 60 per cent", if interventions among poor children were raised to the level seen in the richest 20 per cent of households in the same countries, it said.
In that event, deaths of children from all causes could be reduced about 13 per cent in those 75 countries by 2015, the report predicted.
The UNICEF report comes a week before a planned meeting in Washington convened by the governments of Ethiopia, India and the US on child-survival objectives. Some 700 experts from government and the private sector are expected to attend.
PTI