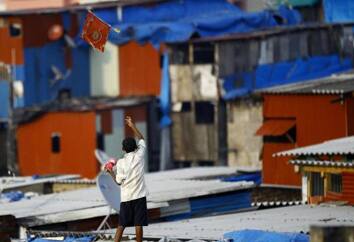 Rashi Aditi Ghosh/Zee Research Group
Dreaming a good life comes naturally to one and all. Just that everyone does not get to fulfill his or her dreams!
But for some dwelling in multitude of slums in India, time to accomplish their cherished dreams has just arrived.
The Union Home Ministry's 'Housing stock, amenities and assets in slums' report presented by the Census department last week brings to light the new level of development at slums across India.
The Census survey, however, reveals a familiar pattern of mobile phones taking precedence over toilets while owning a television set is reckoned as a status symbol.
A first of its kind report, the survey does not have an earlier benchmark to plot the exact change in the development indices across slums mushrooming all over the country.
While the Census survey put the assets base at 4041 towns, in all about 17 per cent of population lives in slums in India.
The Census assets survey revealed that 25 per cent of Indian slum households are composed of four members while households having nine and more members are just 5.2 per cent. This has resulted in the establishment of the nuclear family norm in slums in India.
While on one hand the average size of the household was decreasing, on the other more households were spending on building and availing personal assets. Now 70.2 percent houses in slums were owned homes as against 26.3 per cent rented houses.
Talking on the growing trend of nuclear families at slums, TK Mathew, chief executive at Deepalaya, a Delhi based NGO working on issues affecting the urban and rural poor, said, "The trend of nuclear family is growing in Indian slums because it is hard to accommodate joint families into the extremely congested rooms."
He, however, did not buy the asset building trend as "quite genuine". Mathew wondered whether it was not important to assess the overall quality of life the poor lived in slums. "A slum can hardly be called a house even if you own it," he argued.
The Census data survey pointed out that about 70 per cent households in slums now owned television, 63.5 per cent mobile phones, 18.7 per cent radio and 10.4 per cent computer/laptops respectively.
Ironically, despite the appetite, the hygiene quotient prevailing in slums has only got worse: Only 34 per cent slum dwellers avail the facility of toilets within their premises.
Commenting on the poor hygiene prevailing in slums, Aidan Cronin, specialist in water and environmental sanitation, UNICEF India said, "Populace residing in slum can now manage to buy mobile phones but possessing a proper functioning toilet is not at all seen as a key requirement. This is due to lack of guidance of the authorities who fail to generate awareness amongst the slum dwellers."
Mathew from Deepalaya lamented, "In my view politicians are only concerned with slums being a vote bank for them. On ground slum dwellers suffer as they fall prey to the false promises."