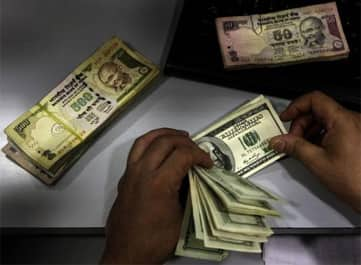 Rohit Joshi/Zee Research Group
But for a robust inflow of dollars from Foreign Institutional Investors (FIIs) into the country, India's Current Account Deficit (CAD) might have been far more precarious.
While India's current account deficit hit a record 32.6 billion dollars (6.7 per cent of GDP) in the third quarter of financial year 2012-13 (FY13), in FY13 FII investment in Indian equities touched record level of around Rs 1.4 lakh crore.
The FII inflow this fiscal was the highest since 1993 when India opened the door to this class of investors. The latest CAD level is up nearly 61 per cent in comparison to the corresponding quarter last fiscal.
At Rs 1.4 lakh crore, according to Securities and Exchange Board of India (SEBI) data, FII investment in Indian equities is the highest since FY2010, when the market was flooded with Rs 1.1 lakh crore inflows.
Commenting on the record high FIIs flows in FY13, AK Prabhakar, Senior vice-president, equity research at Anand Rathi Financial Services, said, "Global liquidity and aggressive reform process which government has adopted post arrival of Chidambaram as FM has led to record inflows."
In sync with Prabhakar, Ashish Maheshwari, director, Globe capital market Ltd, said, "Following quantitative easing by global central banks, fund allocation came to us as part of emerging market portfolios. Moreover, high growth expectation in certain sectors like Banks, Auto, Pharma, FMCG etc also brought FII inflows."
In 2012-13 (FY13), CAD as a per cent of GDP (gross domestic product) has witnessed an uptrend. In Q1FY13, Q2FY13 and Q3FY13 it stood at 3.9 per cent, 5.4 per cent and 6.7 per cent respectively. Slowdown in exports, very high inelastic imports of oil, gold, coal and the outward payments made in the form of royalty, dividend were the main reasons which led to record high (6.7 per cent) CAD figure.
The economic situation could have been even more alarming in case FII flows were not robust. "No other country in the world today has such a high CAD figure. Capital flows like FIIs, ECBs (External commercial borrowings) has provided support to Balance of Payments (BOP) and it has also ensured stability of foreign exchange reserves. However, in the long run one can't rely on the sustainability of these flows," opined Madan Sabnavis, chief economist at CARE Ratings.
Reiterating the view, Brinda Jagirdar, consulting economist (former chief economist at SBI), said, "This time FII inflows were robust hence CAD was funded by it without drawing upon the foreign exchange reserves otherwise the situation could have been difficult to fund it. I expect CAD to be narrower around 5 per cent of GDP in the fourth quarter."
To rely on FII flows is like a compulsion for us. "We don't have any choice but to stick to FII flows. I don't expect any major FDI (Foreign Direct Investment) flows in this calendar year as political uncertainty will weigh higher," added Maheshwari at Globe capital.
However, Jagirdar has a different view point and argued, "Relying on FIIs, ECBs, and NRI deposits is like a case where we are funding our debt with more debt. Instead of that we should look for more stable and long term sources of income like FDI, exports of goods and services."
Commenting on the outlook related to FII inflows, Prabhakar at Anand Rathi assured a brighter situation, "Global liquidity is now drying out and Euro problem has once again resurfaced but these are temporary setbacks. We feel FIIs flow would increase in FY14 as reform process has started. Furthermore, both PM and FM have assured that reform process would continue even if political instability exists."