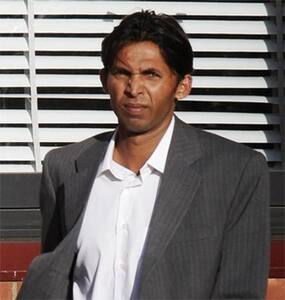 Former cricketer and a current Member of Parliament, Navjot Singh Sidhu has been known to have lived life with passion. He is someone who has lived like a tiger, on and off the field. He was particularly moved when the game of cricket was dishonoured by malignant activities, be it the IPL scandal or the present 'spot-fixing' expose.
Zeecric.com's Swati Chaturvedi spoke to the vocal and passionate cricketer and politician in a free-wheeling chat on her show Kahiye Janab. Here are the excerpts:
Swati: You have fought like a tiger, have spoken in the Parliament for cricket; it was a religion for you. What is your opinion on the current cricketing controversy of 'spot-fixing'?
Sidhu: I speak the truth; my blood boils when I hear of match-fixing. The main reason for it is greed, the greed for money. Then there is a lack of pride in one's nation and the game. It pains, as a billion people's trust has been broken. The biggest wealth of a cricketer is the trust that people have in him.
Swati: There has been no action against the people who have tarnished the game. What is your take on it?
Sidhu: Betting is going on everywhere. But this cannot be called betting. It is treason with the nation and such betrayal demands punishment that is equivalent to that of what a traitor gets. However, the punishment must not come on speculations. It must be made on solid proof. An example must be made out of the guilty so that the future generations shudder at the thought of doing something like this.
Swati: What should be done to Pakistan cricket for acts of match-fixing time and again?
Sidhu: Talk to people in the language they understand. You can't be soft with criminals. Having said that, why should the entire nation of Pakistan suffer due to the mistakes of a few?
Swati: Pakistanis are in a state of denial over the entire 'spot-fixing' episode; they want a probe of their own. What do you have to say about that?
Sidhu: There is no question of denying now. A revolution has to be brought in the way things are being run.
Swati: Most of the cricketers remain limited to commentary after retiring, while you have gone beyond. How did that happen?
Sidhu: It is the passion and not the lineage that gets you far. I am a master of all trades and jack of none. It is because of the passion I have. I live one idea, breathe one idea and have just one aim, one direction.
Swati: How can we bring in such passion and clear up the mess in IPL?
Sidhu: One of the biggest mistakes that are committed in our country is that merit is ignored. Politicians are sitting everywhere, doing nothing at the top. Unfortunately, they don't have the ability or the passion. You need to take support of a cricketer; giving power to a single person is wrong as it tends to corrupt.
BCCI's nine-man committee has not said anything to Modi because of their vested interests. Individualism can't be above cricket. When greed, and not need, drives you, this is the result.
Adapted by: Vineet Sharma