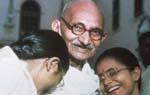 The stature of Mahatma Gandhi is no less than a God in India and he is revered not less in other parts of the world too. So, whenever someone tries to explore the various facets of Gandhi's public and personal life, he is bound to draw attention.
In his latest book "Gandhi-Naked Ambition", visiting research fellow at School of Advanced Studies in University of London, Jad Adams explores the man behind Mahatma and his various experiments with celibacy. The book is, predictably, already creating a flutter in Europe and England.
As the controversial book is also set to launch in India, Jad Adams gives an exclusive peek into it, and talks of his inspiration and future projects in an exclusive chat with Sharique N Siddiquie of Zeenews.com.
Sharique: From where did you draw the inspiration for your latest book "Gandhi-Naked Ambition"?
Jad: From Gandhi`s life itself. I am a historian and a biographer of a number of world figures. I have particularly concentrated on political radicals and nationalists in my work. I was pleased to be invited to write about Gandhi because his life is so multi-faceted – his political, spiritual and personal life all have interest; he lived in three different continents; and people still invoke his legacy. He was both a spiritual and political radical.
Sharique: Why did you choose to explore Gandhi's sex life? Is your book adult material? Is it just about sex?
Jad: The book does deal with Gandhi's sexuality, but as a part of an attempt to understand his entire personality. Different things possessed him at different times in his life. When he was in London as a student it was vegetarianism (not sex or politics) that interested him. In South Africa his attempts to remain chaste and his creation of ideal communities was more important to him than his work for Indian traders. Back in India he was preoccupied with Indian nationalism and his ashrams for the 1920s and 30s. At the end of his life, his sexual experiments preoccupied his thinking. My interest is in the whole of his life, his political, spiritual and family life as well. In my book I give what I hope is a rounded picture of Gandhi, not concentrating on sex, but not ignoring it either.
Sharique: Does your book castigate Gandhi or present him in a sympathetic light?
Jad: My view is that a biographer always ought to be on the side of his subject. That doesn`t mean a whitewash (or an attack), but that a biographer should see things as if he is sitting on the shoulder of the subject. I try to judge Gandhi as he wished to be judged.
Sharique: Don't you think writing on Bapu's sex life is stepping into dangerous waters?
Jad: No, I think historians have the right to address any matter of a subject's life. In the case of Gandhi, he spoke and wrote a great deal about sex in general and his own sexual experience in particular. If 'Gandhi and Sex' was a subject that was to be banned, a good deal of Gandhi`s own work (in the Indian government`s edition of the Collected Works of Mahatma Gandhi, for example) would have to go.
Sharique: Gandhi is India's 'Father of the Nation'. Is it right to criticise a great man like him?
Jad: Gandhi was a historical figure, who was much criticised during his life; he was man enough to handle it.
Sharique: How did people, especially Indians, react to your book after its release in England?
Jad: Indian friends and university colleagues in Britain have been positive. There have been many queries, like yours, from India.
Sharique: What kind of response are you expecting from readers in India?
Jad: I hope they will engage with the book as a positive contribution to Gandhi studies. It is distributed by Penguin, India.
Sharique: Tell us one reason to read "Gandhi-Naked Ambition".
Jad: It gives a picture of the man behind the Mahatma.
Sharique: What are the future projects that you are working on? Any new book coming up…..
Jad: I am working on world history of women's suffrage - how women in different pats of the world were enfranchised.