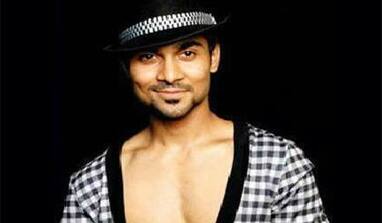 Salman Yusuff Khan, one of the Bollywood debutants of 2013, is a diehard Salman Khan devotee because he can go on non-stop praising the superstar. And he talks about Prabhudeva, his co-star of his debut Hindi film 'ABCD – Any Body Can Dance' with as much gusto. Read on to know what this newbie told Resham Sengar of Zeenews.com over the phone about his idol and quasi-namesake Salman Khan, his friends in the big bad world and more.
How was it working with Prabhu Deva?
It was fantastic. I really don't want to confine my feelings to words. I have seen that person (Prabhudeva) while I was growing up. I have really looked up to him. Prabhu sir often used to say 'Hey Salman, I liked that dance step of yours. Please teach me that step.' Now that is something! It made me realise how humble and down to earth he is. Even today, Prabhu sir calls me up and asks 'How are you? How is life going?' That is still unbelievable for me because he is one of the best in our country. I respect, respect and only respect that man.
You did a dance cameo with Salman Khan in 'Wanted'. Please share with us your experience of working with the superstar.
Salman Khan is my style icon and he is the best human being ever. When I met him for the first time on the sets of the song, I was supposed to shoot with him for 'Wanted' (2008), he was sitting in his vanity and I went to say 'salaam sir' and told him that I will be working with him in the song. So he was like 'Yeah, yeah I know you' and he asked me to sit down and even offered food and asked me about my entire background – my family, my parents. He asked me whether I was prepared for the shoot or not and I replied that I was not really ready because I'd just got done with the 'Dance Indian Dance' finale the previous night and thus could not even change my clothes for the shoot. So he sent his own designer to me, who asked me to choose from bhai's own clothes. I did not believe all that was happening and the fact that I would wear THE Salman Khan's clothes. (laughs) I was so excited and wondered how I should react to this. But I could not change my clothes because I had already given some shots in the clothes I was wearing. Ever since that day, every time I meet him anywhere, he (Salman) affectionately calls me and asks 'Come here. How is your work going?' Even when I got injured at an awards' function a few days back, the entire industry was there but when he came to know about me, he immediately ran out of his vanity in panic, lifted me up and kept asking 'Kahan par lagi? Back par lagi kya?' and made sure that I was taken care of well.
Now tell me, is he a hero in real life or not? He is a real life hero and that's how a human being should be. He is my idol in terms of how a person should be. I am not exaggerating, but whenever I pray to God, I always pray for his well-being too.
But Salman is known for his temperamental nature. What about that?
I'll tell you one thing that even if God came down from heaven; even then people would try finding faults in Him. Second, Salman bhai is a friend of friends and the worst nightmare for his enemies. He is not a fake person. Before the media, he is not like 'Oh I have to put my best face forward'. He behaves the way he is. Other people behave well before the media even when they are angry inside. Salman bhai is real. And that is how a human being should be.
Who else do you consider your friends in the industry?
Remo sir is family for me. But I don't have friends around me. I am very professional when it comes to work. I have best friends from my engineering days in Bangalore. I am not a very social or a party person. For me, it is always about work. Like I said earlier, I am living my dream. I work, eat and sleep.