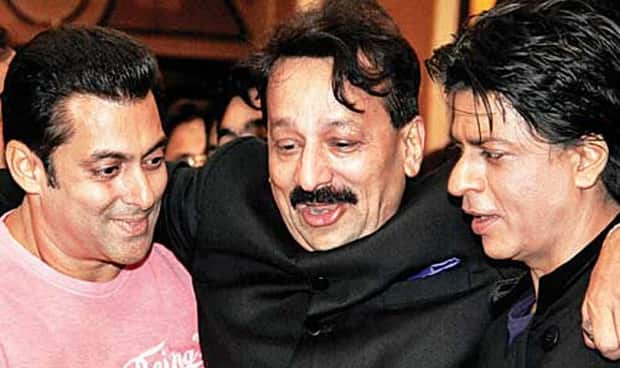 Gayatri Sankar
A lot has been written and spoken about the alleged enmity between Salman Khan and Shah Rukh Khan. The two Khans have been pitted against each other on various occasions. While some believe that these two industry heavyweights can't see eye to eye, many others have the opposite view.
Nonetheless, Salman and SRK seem to have put all speculation to rest, perhaps forever, by hugging each other at an Inftaar party hosted by politician Baba Siddiqui, Sunday evening.
The two superstars gleefully posed for the shutterbugs and looked quite comfortable in each other's company.
If one were to understand the underlying emotion enveloped in Shah Rukh Khan's latest tweet, then it substantiates the fact that there is no point in being clogged at a spot.
Here's what SRK said in his latest tweet:
"Finally u realize turning the page is the best feeling in the world, becos there is so much more to the book than the page u were stuck on (sic)."
Both Salman and Shah Rukh have spent almost a couple of decades each in the film industry and have built unique positions for themselves - one is popular as 'Bhai', the other is 'King Khan'. They have also shared screen space in as many as three films- 'Karan Arjun', 'Kuch Kuch Hota Hai' and 'Hum Tumhare Hain Sanam'. Each of these films was successful at the Box Office. They indeed did create ripples together but their subsequent rift, allegedly owing to various reasons, led to massive speculations thereafter.
The rift between the two widened with time, which reportedly led to formation of camps in the Bollywood family. The two seldom made public appearances together, and made all possible attempts to not bump into each other.
The crack between the two bigwigs was however, quite apparent. The likes of Hrithik Roshan, Arjun Rampal, Karan Johar and Priyanka Chopra were seldom spotted in dos thrown by Salman. Groupism in B-Town was out in the open!
The release dates of their respective films were carefully chosen in order to avert clashes at the Box Office.
Both Salman and Shah Rukh have an ocean of humanity religiously following them. Hindi cinema might have never witnessed rival fan clubs taking a dig at each other. For Salman's fans, the hunk of an actor, is nothing short of a messiah and for SRK's diehard followers, their idol is the ultimate superstar.
And for those who admired both Salman and Shah Rukh alike, images of the two embracing each other at Siddiqui's Iftaar party would have certainly been a treat to watch. As videos of the party hit the web, one could see the 'Dabangg' star taking the initiative to wish Shah Rukh Khan by hugging him.
Proud host and an elated Baba Siddiqui made the most of 'historic moment'! He wasted no time in embracing the two Khans and posed for the paparazzi, thereby giving a visual treat to all those who were desperate to grab both Salman and SRK in a single frame.
Even Tweeples went berserk over this incredible moment and used hashtag #SalmanHuggedSRK to express their views. Such is the magnitude of the happening!
Many on the micro-blogging site brushed their witty sides by saying that Siddiqui deserved a Nobel Prize for peace! However, Siddiqui does deserve a thunderous applause for acting as a catalyst in bringing the two warring Pathans together.
The moment of togetherness for Salman and SRK lasted only a few seconds, but has certainly given hope to many, who have longed to see them reconcile. Though it may be too early to jump to conclusions, it goes without saying that it was indeed a glorious moment.
Pic courtesy: DNA