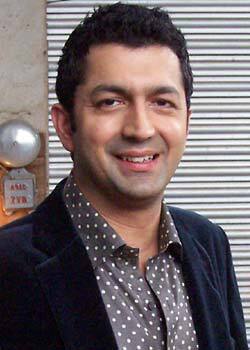 Ananya Bhattacharya
He has held many hearts captive ever since his 'Hum Tum' metamorphosed into the story of every 'Hum' and 'Tum' and his 'Fanaa' brought to life – amidst the backdrop of a tension-fraught Kashmir – the love story of a terrorist. Eminent and trendsetting filmmaker Kunal Kohli is a person who strives for perfection in each of his ventures.
The iconoclastic director was at the Zee News office recently. Ananya Bhattacharya of Zeenews.com spoke to Kohli about his journey from being an anchor/film critic at Zee to one of the reputed filmmakers of the country, love stories, his upcoming 'Teri Meri Kahaani', his films in general and a lot more.
Your journey from an anchor to a director – how has it been so far?
My journey actually started in Zee TV; I did a lot of programmes on Zee TV. I was always interested only in films. I never did any other kind of programmes – my idea was always to get into films. At that point of time, I thought that if I couldn't make films, I could at least talk about them. My only obsession in life has always been films.
So Zee was basically a launch-pad for you?
Yes – Zee was a launch-pad. Then I did music videos. I guess it was with the music videos that people in the industry got up and took notice of me. And then the awards for the best video also helped. Then Yash ji (Chopra) and Adi (Aditya Chopra) were sharing their plans of starting a studio, and I was one of the first directors that they'd signed. Then I had one film after the other – so it's been a nice, long journey, but it's been fun. I have enjoyed my work at every step on the way – I don't think I've worked a single day in my life!
Tell us about some of the challenges that you have faced thus far.
Everything that I started off with, was new. Even when I worked in Zee TV, it was a new experience. Back then, no one had an idea what a private channel is. I learnt new things in every step of my life. When I did music videos, there were very few people doing them. And then when I stopped doing music videos, people asked me questions again. I think you just have to take a chance in life – whenever I've taken a chance, I've always succeeded in life. When I've played safe, I've failed.
Would you call 'Teri Meri Kahaani' too, taking a chance?
Of course, with 'Teri Meri Kahaani' I'm taking a chance again. In the duration of one story, I'm narrating three – over a course of hundred years. When I did 'Hum Tum', people asked me why I had put cartoons in my film. They had numerous queries as to why cartoons should feature in a love story and the like. But that's the way I wanted to tell the story – and people loved it!
In 'Fanaa', people asked me why I wanted to make another film on Kashmir. They warned me that people were not interested in Kashmir – but my film was a love story set in Kashmir, with the backdrop of terror. Necessarily, I've always taken chances!
'Hum Tum' was a light-hearted film, and 'Fanaa' had a serious, darker tone. What is 'Teri Meri Kahaani' like – is it away from these tried and tested genres or does it have a similar feel to it?
It is... actually a mix of both. It is not dark, because there are no terrorists in the film – but it has definitely got the entertainment and fun of 'Hum Tum' and 'Fanaa', it has got the young urban connectivity of 'Hum Tum' – it's got a little bit of both. It has a nice, Muslim background to it – in 1910. The first era actually comes after the interval. And 1960s is another time period which has fascinated me a lot – the period of Dev Anand, Shammi Kapoor, Dilip Kumar. The trend at this point of time seems to be that of remaking films. I somehow did not want to get into that mould, and I remade a whole era. It is much easy to remake a film, remaking an entire era is not a cakewalk; it is a very challenging task. I believe in taking the hard way, and that is how it's been.
In 'Teri Meri Kahaani', are we looking forward to seeing a spontaneously unedited, continuous flow of the story with the portrayal of the protagonists' thought processes?
No... It isn't that. There are no previous births, nobody dies or remembers that they'd met before – all of it is outdated. The fun of it lies in the fact that the audience knows that Shahid (Kapoor) and Priyanka (Chopra) have met before, but the actors don't. I think it's more entertaining that way. They don't ever know that they've met in the past or what has happened in the past. It's just about love and entertainment.
What message do you have for budding directors who want to follow in your footsteps and become the next Kunal Kohli?
(Laughs) You just need to work hard. It's a very difficult job – the glamour is not even two percent of the line. It is ninety nine percent blood, sweat and tears – in various proportions – and it's only one percent of glamour fame and money. There's nothing more than blood, sweat and tears – so if you're prepared for it, only then you can enter the line.