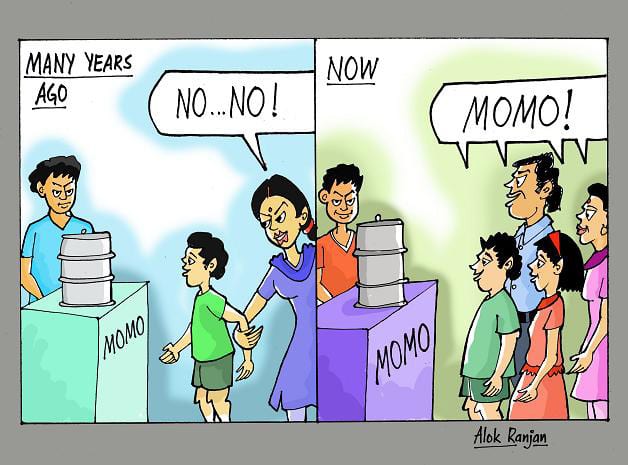 Diwash Gahatraj
Delhi is politics, power and paisa. Delhi is for the Sonus and Monus showing off their fancy designer shoes and cars. But Delhi is also for Ram Gurung and Pritam Chettri who sell momo on the streets of the capital and live happily in their two-room set houses.
There is apparently no link between the two strata of the society. The only possible reason to connect these two classes would be their love for the Tibetan dish, momo. One class sells it and the other eats it.
Momo are tasty dumplings made in both vegetarian and non-vegetarian options. These have, of late, become the latest fancy of Delhi residents. From birthdays to cocktail parties, momo are now among the favourites of the Delhi middle class.
Momo originated in Tibet but have a strong presence in the fast food menus of Nepal, Darjeeling, Sikkim, Northeast and North India.
Every office complex, housing area and market place has a vendor selling momo.
There are many reasons behind the 'momo madness' in Delhi and other Indian metropolitan cities. Here are the three best reasons that explain the journey of the momo from Tibet to the bylanes of Delhi.
Political instability & unemployment in the Hills
Over the last two decades, the northern part of Bengal has seen the agitation for the Gorkhaland; Nepal has seen the rise of Maoists; and Tibetans have wanted to break free from the clutches of the Chinese government. The political and economic instability of the region forced its people to move out and look for opportunities in bigger Indian cities.
Delhi has allured a huge number of legal and illegal immigrants from Nepal, Tibet and the northern part of Bengal - reasons being its economic boom. With its fast growing markets, upcoming high-rises and mushrooming of shopping malls, Delhi has become the land of opportunities.
When people migrate from one place to another, along with a bundle of fresh hopes, they also carry their culture and lifestyle to the new place. So, when people from the eastern Himalayan region came to work in Delhi, their favourite food momo also entered the country's capital.
Delhi gave them jobs of all sorts. The people from the region started working as drivers, domestic help, baby sitters, doing odd jobs in shopping malls and restaurants etc. But a few brave men and women decided to become entrepreneurs and opened fast food joints.
From one momo joint to another, gradually the number of such small outlets grew across the city. Being an extremely unorganised sector, it is hard to put a number to the total count of momo vendors in the capital today.
One followed another
Ram Gurung, who belongs to Nepal, sells momo in Saket's DDA market complex in New Delhi. He is 31 and lives with his wife and two kids in a nearby shanty quarters. He says he earns more than Rs 500 a day by selling momo.
There are many people like Ram from Nepal and Darjeeling who came to Delhi in search of jobs but when they realised that momo can be an excellent source of income, they decided to open their own small stalls.
"When I came to Delhi five years ago I started working as a security guard in a shopping mall. But I saw that a few people from my native place, who had set up their own momo stalls, were making pretty good money. I also thought of doing something of my own. I saved some money and started my own fast food joint in Janakpuri (West Delhi)," Pritam Chettri said. The 27- year-old from Darjeeling lives with his brother, who helps him in his business. Pritam now wants to save some more money and open another small momo joint.
There is a locality in Chirag Delhi, southern part of the city, which can be called as the momo village. One out of every two houses has a person who makes momo for a living.
Talking to Pushpa (name changed) and a few of her cousins, I realised that they had come to Delhi all the way from Illam (Nepal) just to make momo.
Pushpa said that she and her cousin earn Rs 100 for making 100 momo, which they call it "making charge". On and average they make around 200 to 250 momo every day. They don't have their own stall to sell the momo. They sell their partly-cooked hand-made dumplings to a person who is a native of Haryana. The man works as a middle man between people who know the art of folding momo and the person who has a stall to sell it.
Puspha said she too came to Delhi knowing that her knowledge of making momo would help her get a decent living and have economic independence.
Delhi loves change
Indians love to eat between meals. The list of food served in this category is long and varies from state to state. Every part of the country has a different platter of snacks to spread when a guest comes or to be munched with tea in the evening. Dosa, idli, uttapam etc (considered both as meals and snacks) belong to the southern part of the country. Similarly, pav bhaji, vada pav, thepla, khakra are some snacks from west India.
Delhi being the capital of the country and heavily cosmopolitan has everything to serve. History is testament to the fact that the city has tasted different kinds of cuisines. From Mughals to British, Delhi has a cauldron full of recipes to share. But the city has nothing to call its own dish.
The city has accepted all kinds of food and the people of Delhi have a palate to accept new dishes. Delhi has seen a huge transformation in the food industry in the last few years and people have accepted this change quite well.
There was a time when chole bhature – deep fried Indian bread served with chickpea curry - a very famous north Indian dish, was a beloved food of Delhi residents. But, with time the love for chole bhature has given way for easy to eat dish - momo.
Momo are hassle free to eat, and are very easy on the pocket. May be this is the reason why the fast-paced Delhiites love the dish so much.
No one knows when exactly Delhi accepted these humble Tibetan dumplings and apparently made them its favourite snack.
It was in the late 90s that the city witnessed a growing interest towards momo. Before that, momo were not a readily available dish in Delhi. These were confined to the food menus of Chinese restaurants and star-rated hotels only.
However, of late momo have become a street food phenomenon. If you stay in Delhi or are planning to visit in the near future, you are sure to see at least one momo outlet in every part of the city. Hence, notwithstanding the geographic and cultural differences, momo made their way from the stomachs of the Delhiites to their hearts.
Momo have come a long way and it looks like they are here to stay as a favourite fast food for a long time. But we humans have very dynamic taste buds, which want change every now and then. May be momo will too, one day lose their popularity to, say, their equally fast growing competitor pasta. But till then, all we can do is dip a steaming hot momo in red chilli sauce and savour its taste.