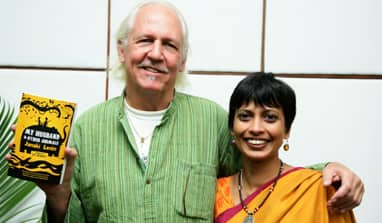 A self-confessed animal lover, Janaki Lenin found the writer in her after her exposure to a whole lot of wild animals and reptiles post her marriage to Romulus Whitaker, a noted herpetologist, wildlife conservationist and founder of the Madras Snake Park, The Andaman and Nicobar Environment Trust (ANET), and the Madras Crocodile Bank Trust. Janaki loves travelling across the Indian hamlets to get a microscopic view of life in the rear parts of the country. And her first book My husband and other animals is a collection of short stories woven by the writer out of her own amazing experiences. Resham Sengar of Zeenews.com caught up with this wildlife enthusiast to know more about the book.
What is `My husband and other animals` all about? Why did you come up with such an intriguing title for your book?It's about my crazy husband and the many animals we have met in our lives and during our travels. A book title has to describe what the book is about and intrigue potential readers enough for them to pick up the book, don't you think? Had I had called it 'Notions of Nature,' 'Under the Sun,' 'Upfront and Wild,' do you think shoppers would pick up the book?
What was your aim behind penning down all those chapters in your book?I grew up reading Enid Blyton and Gerald Durrell. They wrote about animals in faraway countries, and about cultures and forests which I couldn't identify with. Recently I realized I had a stockpile of stories about Indian animals, Indian forests, and I could also talk about creatures in foreign lands from an Indian perspective. Considering the tremendous response the book has received, I guess it is filling a gap.
What makes `My husband and other animals` different from the books already there in the market? What is the USP of the book?There are no other books like it in the Indian market. The USP is narrating stories of animal and/or human behaviour with humour and sometimes, poignancy.
Which all stories are closer to your heart from the book?Oh, that's a tough call. Some favourites are 'A beast within,' 'Threats bear fruit,' 'Curse of the tree frog,' 'When roses are green,' 'Little creature discomforts,' 'Look before you leap,' and 'Harindranath Chattopadhyaya's birthday poem'.
What makes `My husband and other animals` a must read for a discerning reader?It's a unique mixture of animals and story-telling, of our lives as we struggle to adjust to the many animals that claim our home and farm as their own.
What keeps you busy when you are not writing?Researching stories that I hope to write about, playing with our pet animals – dogs, emus, pig and geese, and trying to find ways of keeping monkeys out of our garden.
You have lived close to Mother nature and animals for a long time. How rewarding and fulfilling is that kind of life as compared to the metropolitan style of living?I'm on a stimulus-overdrive from living out on our farm. There's always something to see, admire, and exclaim about. My sense of my personal space is large whereas in the city, I feel claustrophobic inside apartments, shops, cars, buses… The only interesting thing one can do in the city is watch other people and there's only so much of that I can do. When I'm out on our farm, my senses are alert and sharp; in the city, my brain seems to work at half-capacity.
Do you plan to continue writing books on wildlife and natural history or you wish to test the waters in future with other genres?That is certainly my forte. But I'm open to trying my hand at new genres in the future.