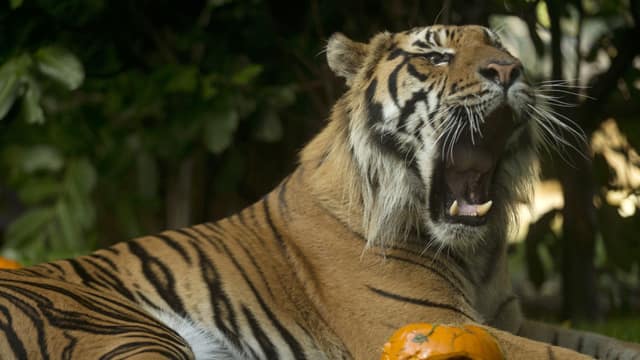 It was not long ago when the whole world was horrified at the news of losing all the tigers in the Sariska Wildlife Sanctuary in 2004 mainly due to poaching.
Mercilessly hunted for their bones, skins and other body parts, which are in great demand in the illegal international market mainly for use in traditional Chinese medicine, the battle for survival for the tigers has been a tough one.
According to 2011 census, there are around 1700 tigers left in the country. As per the Wildlife Protection Society of India data, 26 tiger deaths were reported due to poaching and seizures in 2012 as compared to 13 in 2011.
There is no two ways about the fact that there is an urgent need to protect the tiger. The decline in the tiger population will have a direct impact on the ecological balance. To save the environment, there is a need to adopt stronger conservation measures along with increased vigilance to prevent poaching.
The alarm bells started ringing after the tigers were wiped off from Sariska, followed by the extinction of tigers in Panna Tiger Reserve in 2009. The authorities need to wake up and formulate an effective tiger conservation plan before it`s too late and we witness a repeat in other tiger sanctuaries.
Taking a lesson from the incident, the wildlife authorities are now making all possible efforts to revive the tiger population in Sariska and Panna. However, it will still take a long time for the big cats to once again thrive in the region.
In an exclusive interview with Neha Attre of Zeenews.com, Belinda Wright, a wildlife conservationist and executive director of Wildlife Protection Society of India (WPSI) discusses issues related to tiger conservation.
Neha: What is your reaction to the recent Supreme Court decision of lifting the ban for tiger tourism in core areas?
Belinda: The subject was debated for three months. It would be a serious wake up call for the tourism industry which needs to make huge improvement. I had hoped that it would also result in strong and effective regulations to protect buffer zones and wildlife corridors. However, we ended up with instructions to the state governments to have a Tiger conservation plan within six months. It is now up to the state government to come up with the regulations. I just hope the focus would be wildlife conservation with appropriate benefits for local communities and protection for the buffer zones and wildlife corridors.
I hope we haven`t missed a golden opportunity to regulate wildlife tourism and regulate land use in the protected areas because both are urgently needed.
Neha: Will the tourism in core areas of tiger reserves cause disturbance to the animals?
Belinda: In the areas where there is wildlife tourism, the animals are used to the presence of tourist vehicles. What we need is better regulated tourism so that there is no overcrowding of vehicles, inappropriate behaviour of visitors, new constructions etc. On the flip side, the presence of vehicles and tourists act as a huge deterrent to poachers. For example, the poachers enter the park and set their traps during the day, and usually avoid areas that are constantly `patrolled` by tourist vehicle.
Neha: What are the main reasons for tiger poaching? What steps can be taken to curb poaching activities?
Belinda: There are four main reasons for tiger poaching - to feed illegal demands for tiger parts in foreign market, habitat destruction, poaching of prey species and human-tiger conflict.
A strong intelligence-led professional enforcement can prevent poaching of tigers and their prey species. There is also a need to fill the field-level vacancies in the forest department.
To prevent habitat destruction, we need political leadership to stop the de-notifying of important wildlife habitats for mines, dams and other construction activities. We simply cannot afford to lose another inch of the limited wildlife areas we still have.
Lastly, good management and awareness among local communities who lived around the fringes of tiger habitat is extremely important to prevent instances of tiger-human conflict.
Local stakeholders and civil society also play a critical role in tiger conservation. So, we need their involvement and support to secure a future for tigers. And it is only if we have a healthy environment that we can keep a healthy India.