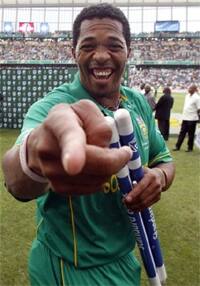 Vineet Sharma
A man's life is not average until he decides to make it so, and so some become above average by the force of their perpendicular grit. One of the lesser celebrated but always loved cricketers retired after the first T20 international against India on their South African tour.
This player has been a regular feature in the Proteas pace battery and goes by the nickname 'George'. Makhaya Ntini, the smiling pacer who unruffled the best bats in the business gave a last glimpse in the international arena after garnering 662 international scalps.
Ntini was the first black African cricketer to play for South Africa, and held this responsibility gracefully, giving his best at all times whenever he stepped onto the field. Not a fiery and temperamental entity like his pace brethren the world over, he had a dogged approach to the game that got him standing ovations whenever he was on song.
Such was his attitude of giving it all he had got, that during the 2003 Lord's Test between England and South Africa, Ntini broke Flintoff`s bat after being smashed around the park. If he could not get the wicket, he got the bat! The same eagerness was seen in his last outing against the Indian batters, the most dangerous in the T20 trade. He went wicket less and had a 20-run second over with the young Indian batsmen telling him that his time had come and he was wise to retire. As he bowled his last ball that saw the entire stadium clapping with his run-up, he inadvertently showed the world why he was so special, he was loved by all races despite an ordinary spell.
It is the conduct and the demeanour of this cricketer that helped him become one of the most vital cogs in the South African line-up, playing a coveted 101 Tests before his retirement. He was often slammed by critics for not having the tearing fast pace or the ability to make the ball swing mid way in its trajectory, smiling at the complaints, he kept doing what he knew best and notched almost 400 Test wickets with his 'flawed' bowling.
His ouster has made way for newer blood to energise the South African outfit that is standing at the second number Test rank and Lonwabo Lopsy Tsotsobe, another black pacer, is seen as his replacement. Whether or not the newbie will be able to fill Ntini's shoes in the South African dressing room is yet to be seen, what is certain is that Ntini's place in the hearts of the South African populace will never be taken by anyone. And for that reason, Ntini smiled and celebrated his exit from the world arena while giving the sombre tears a miss. His message was clear, remember me with a smile, as someone who celebrated the game and not as one who broke down in his toughest times.