Presidents Cup: मैरी कॉम ने जीता गोल्ड, किरण रिजिजू ने कहा- 'आप भारत की गौरव हैं'
केंद्रीय खेल मंत्री किरण रिजिजू ने स्वर्ण पदक जीतने पर मैरी कॉम को ट्विटर पर बधाई दी है. उन्होंने ट्वीट कर कहा, "डियर मैरी कॉम, आप भारत की गौरव हैं.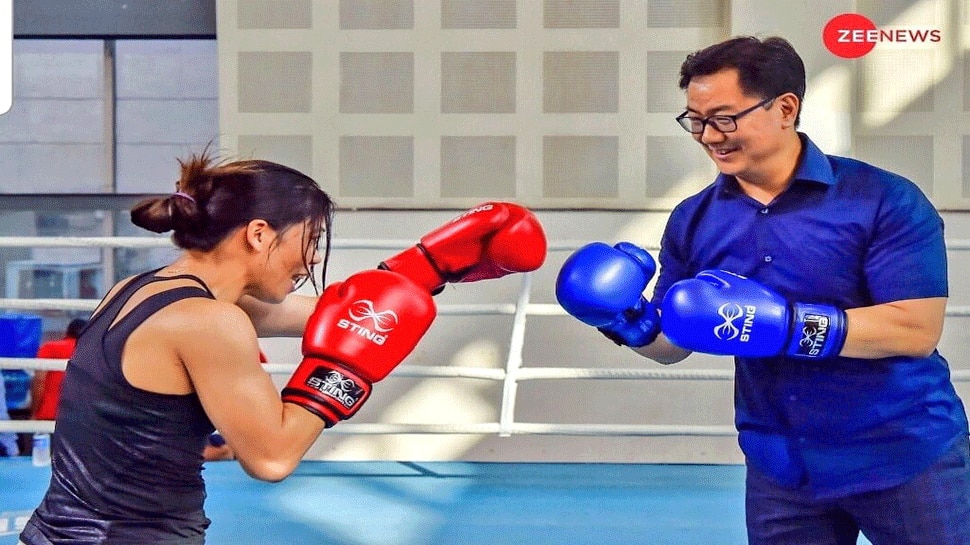 नई दिल्ली: छह बार की विश्व चैंपियन एम सी मैरी कॉम, अनंत प्रहलाद और नीरज स्वामी ने इंडोनेशिया में जारी 23वीं प्रेसीडेंट्स कप मुक्केबाजी टूर्नामेंट के अपने-अपने भार वर्ग में स्वर्ण पदक अपने नाम किया. मैरी कॉम ने रविवार को आस्ट्रेलिया की अप्रैल फ्रैंक को करारी शिकस्त देकर स्वर्ण पदक अपने नाम किया. मई में इंडिया ओपन में स्वर्ण पदक जीतने वाली मैरी कॉम ने टूर्नामेंट के 51 किलोग्राम भार वर्ग में फ्रैंक को 5-0 से शिकस्त दी.  मैरी कॉम ने स्वर्ण पदक जीतने के बाद ट्विटर पर लिखा, "प्रेसिडेंट कप इंडोनेशिया में यह गोल्ड मेडल मेरे लिए और देश के लिए है. जीतने का मतलब है कि आपने औरों से अधिक मेहनत की है.
@KirenRijiju extends his heartiest congratulations to @MangteC and Neeraj Swami for winning Gold at the 23rd President's Cup in Indonesia, and making India proud. @BFI @IndiaSports @Media_SAI

— Kiren Rijiju Office (@RijijuOffice) July 28, 2019
मैं कोच और सपोटिर्ंग स्टाफ को धन्यवाद देती हूं. "मैरी कॉम के अलावा नीरज स्वामी ने भी स्वर्ण पदक अपने नाम किया. नीरज ने 49 किग्रा वर्ग के फाइनल में फिलिपिंस के एस मकादो जूनियर को 4-1 से मात दी.  नीरज के करियर का यह पहला पदक है. 
इसके अलावा अनंत प्रहलाद भी स्वर्ण पर कब्जा करने में सफल रहे.  अनंत ने 52 किग्रा वर्ग के फाइनल में अफगानिस्तान के एस रहमानी को 5-0 से शिकस्त देकर स्वर्ण पदक अपने नाम किया.  केंद्रीय खेल मंत्री किरण रिजिजू ने स्वर्ण पदक जीतने पर मैरी कॉम को ट्विटर पर बधाई दी है. उन्होंने ट्वीट कर कहा, "डियर मैरी कॉम, आप भारत की गौरव हैं. प्रेसिडेंट कप इंडोनेशिया में भारत के लिए स्वर्ण पदक जितने के लिए बधाई."