New Delhi: Amid a row involving the top bosses of the Central Bureau of Investigation (CBI), more than 150 officials of the intelligence agency will attend an Art of Living (Sri Sri Ravi Shankar) workshop with a view to enhancing the positivity within the organisation. The three-day workshop will commence on and from November 10, Saturday.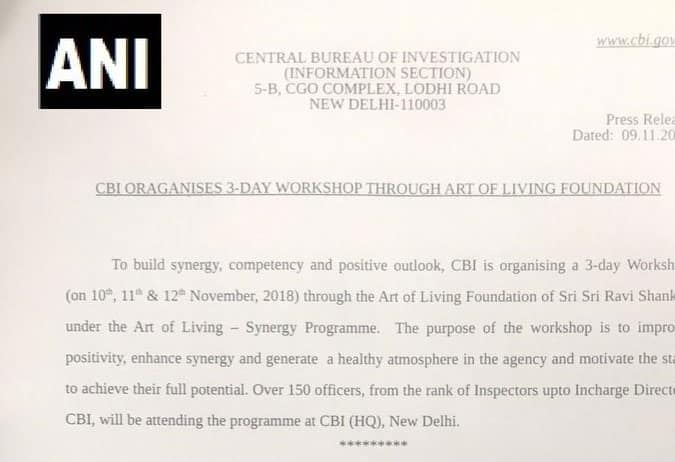 Earlier in the day, CBI director Alok Verma appeared before Central Vigilance Commissioner (CVC) KV Chowdary in connection with the corruption charges levelled against him by CBI special director Rakesh Asthana. Both Verma and Asthana had met CVC Chowdary on Thursday, giving their views on the ongoing investigation into corruption charges against them.
The CBI has been facing the heat since the Prime Minister-led Appointments Committee appointed M Nageshwar Rao as the interim head of the investigative agency and sent the top three agency bosses - CBI Director Alok Verma, Special Director Rakesh Asthana and Additional Director AK Sharma - on leave. Several top CBI officers investigating sensitive cases were also transferred.
Last month, an FIR against Asthana and Deputy Superintendent of Police Devender Kumar, who is in the CBI custody in an alleged bribery case, was registered. The FIR was lodged on a written complaint of Satish Babu Sana on October 15. It alleged that Kumar, the IO in a case, was repeatedly calling him to the CBI office to harass and compel him to pay a bribe of Rs 5 crore for giving him a clean chit.
Asthana and Kumar both challenged the FIR in the Delhi High Court, which later ordered CBI to maintain status quo on the criminal proceedings against Asthana.
(With inputs from PTI)