NEW DELHI: Hours after reports emerged of Imran Khan writing to his counterpart in India PM Narendra Modi, Pakistan has said that its Prime Minister has responded to India in a positive spirit. Ministry of Foreign Affairs in Pakistan said that they are awaiting a formal response from India.
"Pakistan PM has responded to PM Modi, in a positive spirit, reciprocating his sentiments. Let's talk and resolve all issues. We await a formal response from India," Mohammad Faisal, Ministry of Foreign Affairs Pakistan Spokesperson said.
In the letter to PM Modi, Khan said: "I endorse your sentiment that the only way forward for our two countries lies in "constructive engagement." It was in this spirit that hot Pakistan's Minister of Law & Information attended the funeral of Mr Atal Bihari Vajpayee in New Delhi. Mr Vajpayee contributed in trying to bring a positive change in our bilateral relations and was also a major proponent of a strong SAARC for building bridges and developing lies."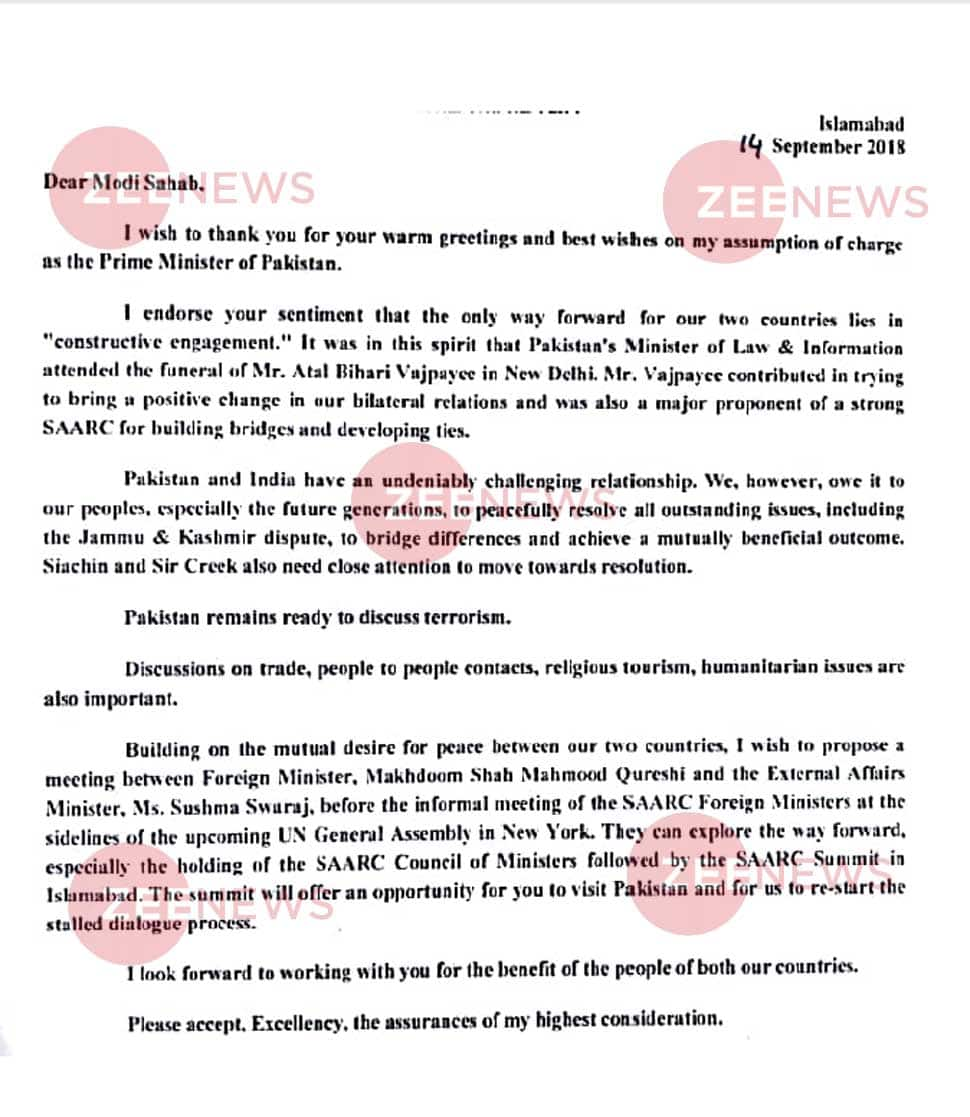 Imran's letter is in response to PM Modi's earlier communication with his Pakistani counterpart. PM Modi had called Imran after the latter took oath of office last month.
In the said letter, Imran Khan called for a meeting between Minister of External Affairs Sushma Swaraj and her Pakistani counterpart Shah Mehmood Qureshi on the sidelines of the United Nations General Assembly (UNGA) in New York scheduled later this month. 
"Building on the mutual desire for peace between our two countries, I wish to propose a meeting between Foreign Minister, Makhdoom Shah Qureshi and the External Affairs Minister Ms Sushma Swaraj, before the informal meeting of the SAARC Foreign Ministers at the sidelines of the upcoming UN General Assembly in New York. They can explore the way forward, especially the holding of the SAARC Council of ministers followed by the SAARC Summit in Islamabad. The summit will offer an opportunity for you to visit Pakistan and for us to restart the stalled dialogue process," the letter states.
As per reports, no separate meeting between the two foreign affairs ministers has been scheduled as yet. The foreign ministers of SAARC member countries are likely to have an informal meeting on the sidelines of the UNGA.