CPEC master plan revealed, Pakistan will soon become China's `colony` by 2030 – Here are the complete details
One of the key Belt and Road projects - China-Pakistan Economic Corridor (CPEC) - passes through Pakistan-occupied Kashmir.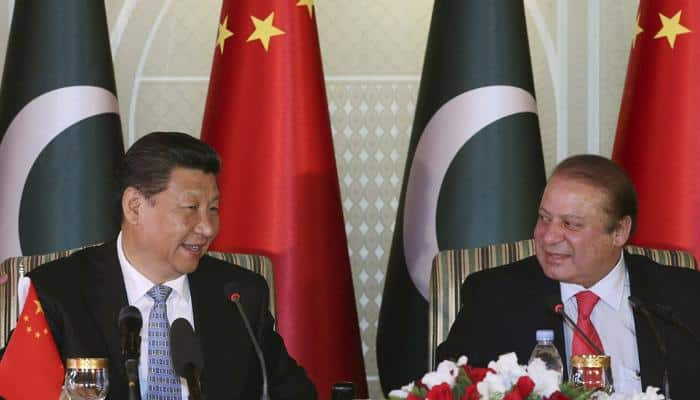 New Delhi: Chinese President Xi Jinping recently hosted leaders from 29 countries and ministerial delegates for the country`s biggest diplomatic showcase of the year - the "Belt and Road Forum". Xi pledged USD 124 billion on Sunday for his new Silk Road plan.
India, however, did not send an official delegation to Beijing and instead slammed China`s global initiative which "compromised its sovereignty" and warned of an "unsustainable debt burden" for the countries involved.
Notably, one of the key Belt and Road projects - China-Pakistan Economic Corridor (CPEC) - passes through Pakistan-occupied Kashmir (PoK).
However, Pakistan has failed to gauge its "all-weather friend" China's intentions behind its mammoth investment in the country.
Pakistani daily Dawn has claimed to have acquired exclusive access to the "Long Term Plan on China-Pakistan Economic Corridor".
The document reveals details that have not been discussed in public so far.
"The plan lays out in detail what Chinese intentions and priorities are in Pakistan for the next decade and a half," said the daily.
"Thousands of acres of agricultural land will be leased out to Chinese enterprises to set up `demonstration projects` in areas ranging from seed varieties to irrigation technology. A full system of monitoring and surveillance will be built in cities from Peshawar to Karachi, with 24-hour video recordings on roads and busy marketplaces for law and order. A national fibreoptic backbone will be built for the country not only for Internet traffic but also terrestrial distribution of broadcast TV, which will cooperate with Chinese media in the `dissemination of Chinese culture`."
The plan implies that Pakistan, established in 1947 after years of British rule, will become an `economic colony` of China by 2030.
There will be a deep penetration of most sectors of Pakistan's economy as well as its society by Chinese enterprises and culture.
"Its scope has no precedent in Pakistan's history in terms of how far it opens up the domestic economy to participation by foreign enterprises. In some areas the plan seeks to build on a market presence already established by Chinese enterprises, eg Haier in household appliances, ChinaMobile and Huawei in telecommunications and China Metallurgical Group Corporation (MCC) in mining and minerals."
However, the main thrust of the plan actually lies in agriculture. This is to be underlined that the "plan acquires its greatest specificity, and lays out the largest number of projects and plans for their facilitation, in agriculture".
CPEC "identifies opportunities for entry by Chinese enterprises in the myriad dysfunctions that afflict Pakistan's agriculture sector."
The project plans to "impart advanced planting and breeding techniques to peasant households or farmers by means of land acquisition by the government, renting to China-invested enterprises and building planting and breeding bases."
This suggests that Chinese enterprises may soon get control of most of the Pakistani farmland.
Another priority is the capacity of the textile spinning sector to serve the raw material needs of Xinjiang, and the garment and value added sector to absorb Chinese technology.
For industry, the plan divides Pakistan into three zones: western and northwestern, central and southern.
The western and northwestern zone is marked for mineral extraction, and central zone for textiles, household appliances and cement. For the southern zone, the plan says "Pakistan develop petrochemical, iron and steel, harbor industry, engineering machinery, trade processing and auto and auto parts (assembly)" due to the proximity of Karachi and its ports.
The plan shows great interest in the textiles industry in particular, but the interest is focused largely on yarn and coarse cloth.
CPEC also aims to spread Chinese culture in Pakistan. "The future cooperation between Chinese and Pakistani media will be beneficial to disseminating Chinese culture in Pakistan, further enhancing mutual understanding between the two peoples and the traditional friendship between the two countries."
The plan identifies politics and security as its major risks. "There are various factors affecting Pakistani politics, such as competing parties, religion, tribes, terrorists, and Western intervention".
"The next big risk, surprisingly, is inflation, which the plan says has averaged 11.6 percent over the past 6 years. A high inflation rate means a rise of project-related costs and a decline in profits," noted the daily.
What is alarming for the debt-ridden Pakistan is that the plan clears this is no free ride.
"Pakistan's federal and involved local governments should also bear part of the responsibility for financing through issuing sovereign guarantee bonds, meanwhile protecting and improving the proportion and scale of the government funds invested in corridor construction in the financial budget."
The Pakistani government has two versions of the LTP (Long Term Plan). The full version is 231 pages long and "drawn up by the China Development Bank and the National Development Reform Commission of the People's Republic of China" in December 2015.
The shortened version, dated February 2017, is 30 pages long and "contains only broad brushstroke descriptions of the various `areas of cooperation` and none of the details."
It is meant to be provided to the provincial governments in a bid to obtain their assent.
"The only provincial government that received the full version of the plan is the Punjab government," mentioned Dawn.
Live Tv