Amravati: Cyclone Phethai made landfall on Monday at Katrenikona in East Godavari district of Andhra Pradesh, leaving chaos and destruction in its wake. State officials informed chief minister Chandrababu Naidu that crops across 14,000 hectares and 26,000 metric tonnes of agricultural produce had been destroyed.
While the state government has said that the priority continues to be on ensuring that loss of lives is at an absolute minimal, the destruction to property and farmland is expected to be significant. Chandrababu held a review meeting in the evening of Monday and was informed that apart from the damage to crop and farmlands, 300 sheeps had died, 379 electric poles uprooted with 146 being restored.
Officials also informed the CM that the highest rainfall in the state on Monday - till the meeting, was recorded at 160mm in Tallarevu.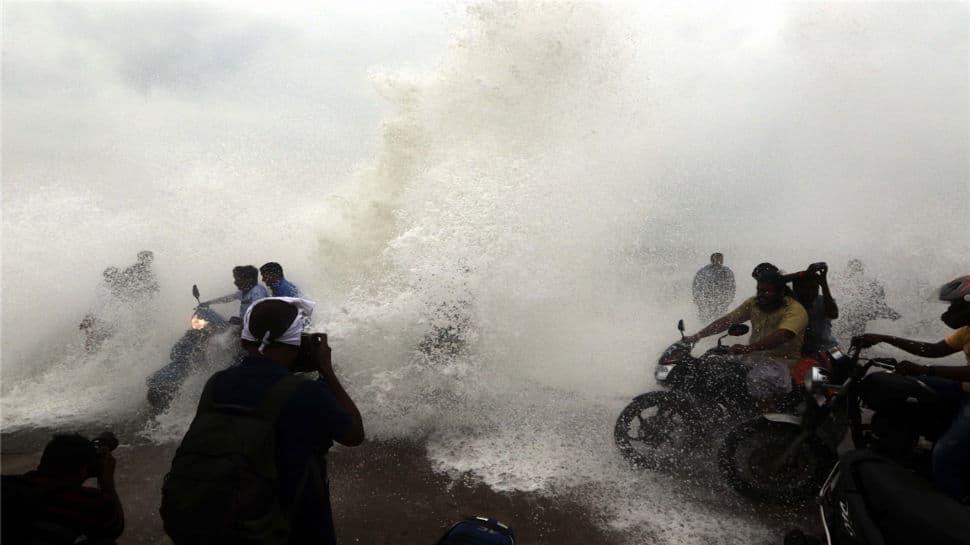 In turn, Chandrababu reportedly directed officials to gauge the probable damage in advance based on wind velocity to be better prepared and to undertake relief measures.
IANS adds:
Over 5,000 people from some coastal and low-lying villages have been shifted to relief camps opened by the East Godavari district administration. National Disaster Response Force (NDRF) and State Disaster Response Force (SDRF) and naval helicopters are on standby along with 10,000 government employees as part of disaster preparedness. Turbulent weather conditions forced the authorities to cancel 14 flights to the port city of Visakhapatnam and divert many others to Hyderabad. Over 700 passengers were stranded at Visakhapatnam airport due to cancellation of flights.
The cyclone, the second to hit Andhra coast this year, had its impact on seven out of nine coastal districts. The rains inundated roads and low-lying areas in Vijayawada, bringing vehicular traffic to a halt.
'Phethai' also had impact on neighbouring Telangana state with heavy rains lashing many districts. Paddy, cotton and other agriculture produce brought by farmers to the markets for sale were damaged.