New Delhi: Janata Dal (United) leader KC Tyagi denied any links of the party with the Cambridge Analytica (CA) and said that its CEO had never met the Bihar Chief Minister Nitish Kumar.
CA, the British data analytics company, along with Facebook has come under fire for allegedly harvesting personal data of FB users to influence elections in several countries including US presidential elections.
"JD(U) has no relation with Cambridge Analytica, neither has its CEO ever met Nitish ji nor me. In any case JD(U) is a socialist outfit and we stay away from such things, except for maybe Prashant Kishore ji helping us during last Assembly polls," Tyagi said.
He added, "There was only a work relationship between my son Amrish's company and Cambridge Analytica, there is no financial transaction or shareholding, everything is open to probe. JD(U) also has no links with this, neither did they promote us in 2010 polls."
His son Amrish Tyagi owns Ovelina Business Intelligence (OBI), which was CA's associate in the country. OBI in association with CA parent company SCL group had formed a company, SCL India. This was to apparently help its clients in India to manage election campaigns, among other things. 
The OBI`s website was suspended on Wednesday night. CA claims to have helped its client to win Bihar Assembly elections in 2010.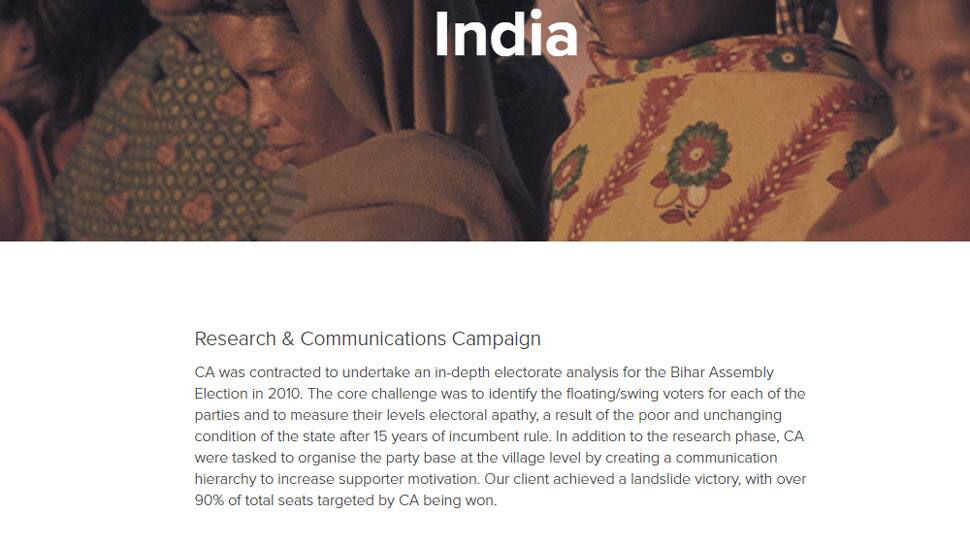 JD(U) has asked Tyagi, who is a Rajya Sabha MP from Bihar, for an explanation in the matter.
Meanwhile, taking a dig at Nitish, RJD leader Tejashwi Yadav said that there was a difference between what they say and 'what they do'. He also questioned the involvement of JD(U) and BJP in the alleged data leak.
Name of the company coming out in this matter is in the BJP client list, run by KC Tyagi's son. JD(U) General Secretary's son is involved and JD(U) is saying that we do not know anything: Tejashwi Yadav, RJD pic.twitter.com/jF7uZa6mVh

— ANI (@ANI) March 22, 2018
NitishKumar & PM Modi are only politicians in the country who take help of PR agencies like #CambridgeAnalytica to create hype around their non existent work! Both are answerable to the country for their Party's links with the agency!

— Tejashwi Yadav (@yadavtejashwi) March 22, 2018
On the other hand, the BJP on Thursday accused Rahul Gandhi of doing politics on dead bodies, after the Congress chief criticised the government over the killing of 39 Indians in Iraq.
Union minister Ravi Shankar Prasad also rejected the Congress' claim that it had never used the services of CA and insisted that the Opposition party and Gandhi did do it.
His response came after the Congress chief suggested that the government had 'invented' a story about the Congress' alleged links with a controversial data firm to divert the media attention from these deaths as it was caught 'lying' on the issue.
Prasad insisted that the Congress has used the services of CA, which has been accused of harvesting people's data from platforms like Facebook unlawfully to influence elections in different countries.
He said several media reports about the Opposition party using the services of the firm had appeared in October and November 2017 and it never denied those stories till the BJP raised the issue yesterday.
Prasad alleged that imprints of CA were 'visible' in the Congress' campaign in Gujarat.
On questions about reports that an Indian company, which was CA's partner, might have worked for the BJP and its allies as well, he insisted that his party never had any ties with the foreign company.
(With Agency inputs)