In a tribute to Mahatma Gandhi on his 150th Birth Anniversary year, Indian Political Action Committee (I-PAC) launched the National Agenda Forum (NAF) in which more than 57 lakh people voted for setting an agenda for contemporary India. Prime Minister Narendra Modi emerged as the top leader with 48 per cent of those polled voting for him followed by Congress president Rahul Gandhi who had the backing of 11 per cent of the respondents.
Among the chief ministers, the top four are -- Delhi's Arvind Kejriwal, West Bengal's Mamata Banerjee, Naveen Patnaik of Odisha and Nitish Kumar of Bihar.
NAF attempted to resurrect the conversation around Gandhi's 18-point Constructive Programme and use it to re-imagine and co-create an actionable agenda.
The result chart: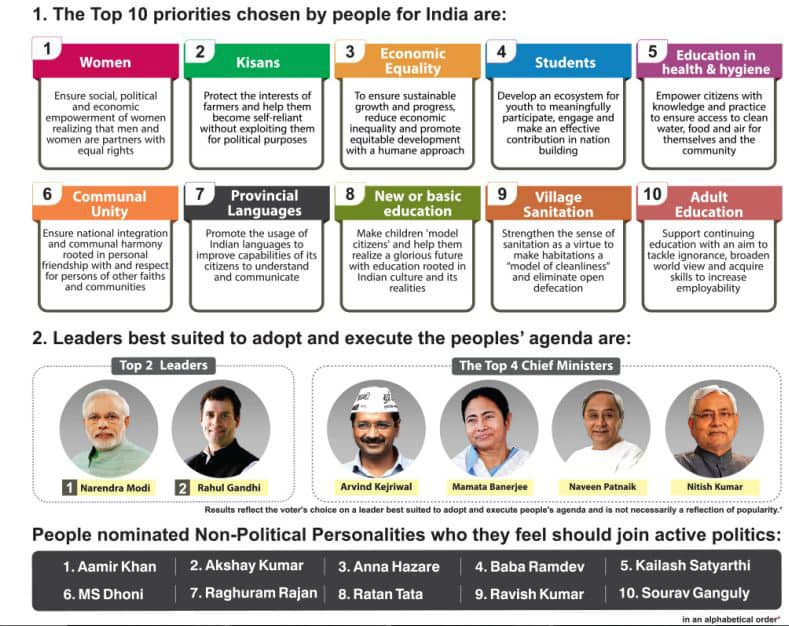 NAF was launched with the aim to mobilise the citizens of India for 4 key action points: 1) Sharing the vision 2) Setting the agenda 3) Choosing the leader 4) Campaigning for India. The top ten priorities chosen by people are -- women, farmers, economic equality, students, education in health and hygiene, communal unity, provincial languages; new or basic education; village sanitation and adult education.
The people chose, Women (Ensure social, political and economic empowerment of women realizing that men and women are partners with equal rights); Kisans (Protect the interests of farmers and help them become self-reliant without exploiting them for political purposes); Economic Equality (To ensure sustainable growth and progress, reduce economic inequality and promote equitable development with a humane approach); Students (Develop an ecosystem for youth to meaningfully participate, engage and make an effective contribution in nation building); Education in Health & Hygiene (Empower citizens with knowledge and practice to ensure access to clean water, food and air for themselves and the community).
They also chose Communal Unity (Ensure national integration and communal harmony rooted in personal friendship with and respect for persons of other faiths and communities); Provincial Languages (Promote the usage of Indian languages to improve capabilities of its citizens to understand and communicate effectively); New or Basic Education (Make children 'model citizens' and help them realize a glorious future with education rooted in Indian culture and its realities); Village Sanitation (Strengthen the sense of sanitation as a virtue to make habitations a "model of cleanliness" and eliminate open defecation) and Adult Education (Support continuing education with an aim to tackle ignorance, broader world view and acquire skills to increase employability).
NAF was launched on June 29 by more than 25,000 Youth Associates from 1,788 colleges spread over 530 districts across India. Over the course of two months, 57 lac people participated in the voting process. NAF received immense support from all quarters including distinguished personalities including eminent Gandhians, Padma awardees, sports champions, prominent TV & film celebrities and civil society organizations. 
I-PAC strives to take the peoples' agenda to the masses, especially the youth, to ensure that they remain informed and engaged on the key priorities for the country rooted in Gandhian ideals and ensure that the peoples' agenda is a part of key priorities for any political party it chooses to work within the future by getting it adopted in their official manifesto.
Further, the people nominated top non-political personalities, who they feel should join active politics. They include -- Aamir Khan, Akshay Kumar, Anna Hazare, Baba Ramdev, Kailash Satyarthi, MS Dhoni, Raghuram Rajan, Ratan Tata, Ravish Kumar, Sourav Ganguly, I-PAC is the platform of choice for students and young professionals to participate in and make meaningful contribution to political affairs and governance of the country, without necessarily being part of a political party.