LONDON: A series of demonstrations, including a silent protest to condemn the recent incidents of rape in Jammu and Kashmir's Kathua and the Unnao district in Uttar Pradesh are being held by various human rights and advocacy groups at Parliament Square on Wednesday coinciding with Prime Minister Narendra Modi's ongoing visit to the United Kingdom as part of his five-day tour of there countries. 
Some Indian women's groups in Britain, which backed the silent protest, had even urged the members of the Indian diaspora in the UK to join the protest by wearing some symbolic white clothing to register their condemnation of "atrocities that are taking place in India".
"Following the horrific rape and murder of eight-year-old in the Kathua region of Kashmir, there will be a congregation meeting to silently protest and publicly express pain, sorrow and shock," the groups behind the silent protest had said in a statement earlier.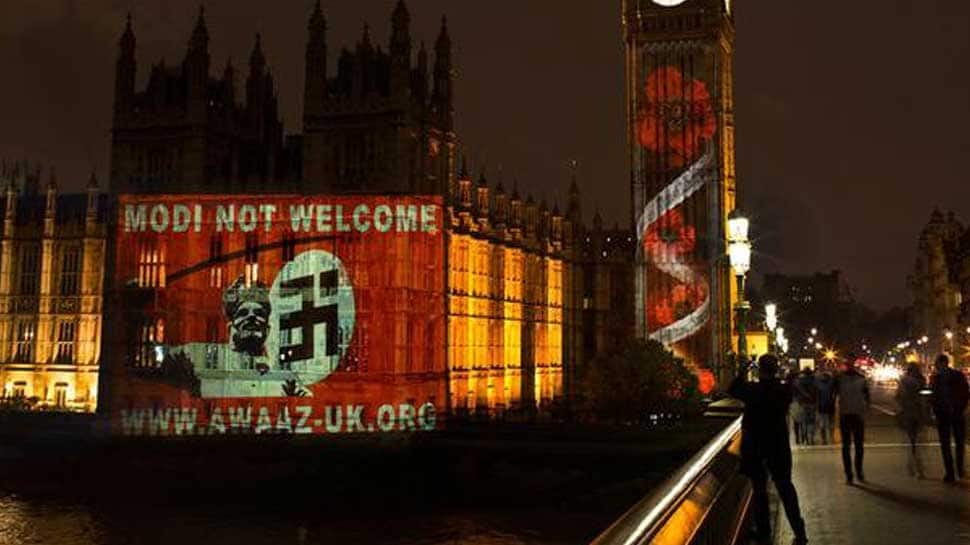 Meanwhile, a counter pro-India demonstration, titled "British Indians Welcome PM Modi" is also being held at the same time at Parliament Square, ahead of Modi's 'Bharat Ki Baat, Sabke Saath' in-conversation event at nearby Central Hall Westminster Wednesday evening.
The group has been running their own vans on the streets of London welcoming Modi to the UK with the message of "Two Great Nations; One Glorious Future".
Also, a "Modi Not Welcome" protest was held by the Caste Watch UK and South Asia Solidarity Group outside 10, Downing Street. The group also used a hashtag #ModiNotWelcome on Twitter to urge people to join the campaign and share their opinion about the recent rapes in Kathua and Unnao.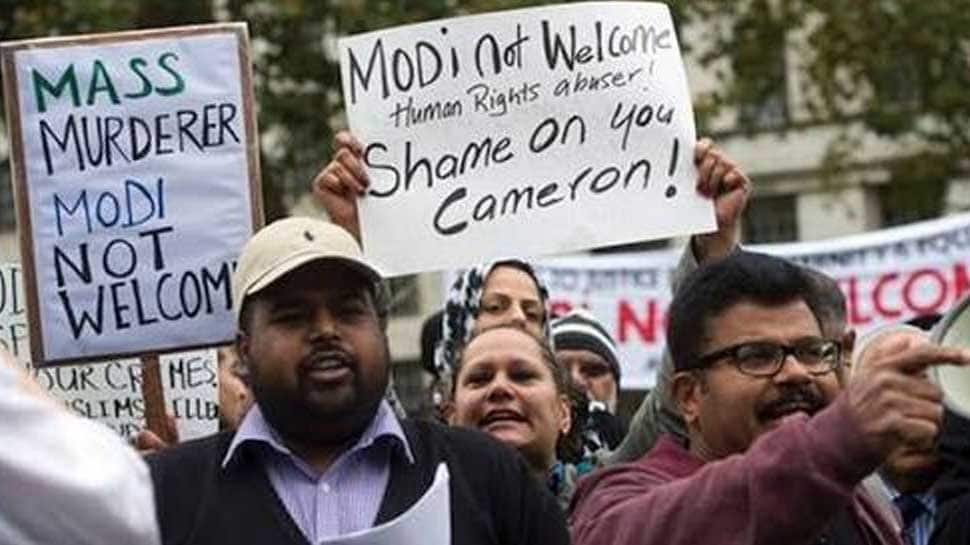 Meanwhile, there have been allegations and counter-allegations doing the rounds among India-related societies of some UK universities, which had issued a letter addressed to PM Modi earlier this week calling for "extraordinary measures" for justice in recent rape cases reported from different states in India.
"We deplore all acts against humanity. However, we were not formally consulted via official correspondence about certain contents of NISAU's letter to PM Modi," a statement from Queen Mary Indian Society said.
The National Indian Students and Alumni Union (NISAU) UK, which had claimed that 19 Indian societies were among the signatories of the letter, condemned "fake allegations" being circulated on social media.
Indian officials, involved in organising the four-day prime ministerial visit to the UK, said that protests and demonstrations are "part and parcel of any democratic society" and there are no plans to curtail them in any way. 
"The main thing is they should be peaceful and not prove disruptive to any of the official engagements," an official said.
Justice rally in New York protesting Kathua, Unnao rapes
Meanwhile, several women's rights and advocacy groups, civil society and inter-faith organisations held a rally in New York protesting against the rapes of young girls in Kathua, Unnao and Surat towns, expressing outrage at the horrific incidents and demanding swift justice.
The 'United For Justice Rally: Against the Rapes in India' was organised by Sadhana: Coalition of Progressive Hindus along with over 20 advocacy and civil rights groups, including Sakhi for South Asian Women, Women for Afghan Women, Turning Point for Women and Families, South Asian American Women's Alliance, Women's Islamic Initiative in Spirituality and Equality, Shri Shakti Mariamma Temple, Shri Lakshmi Narayan Mandir, Shaanti Bhavan Mandir and Iskcon Sri Sri Radha Govinda, Brooklyn.
Organised near a famed statue of Mahatma Gandhi in the city's popular Union Square Park on April 16, the rally was held in response to the recent incidents of rape in Unnao, Kathua and Surat districts as well as against many other "horrors faced by South Asian women every day".
The speakers and participants at the rally expressed their solidarity with the young girls "brutalised" by the horrific crimes and demanded swift justice for each family. They also called out the "complicity and hypocrisy" of India's political and religious leaders.
Sunita Viswanath, board member of Sadhana and one of the main organisers of the rally, told PTI that the rally was a beginning rather than an end toward calling for action against the horrific rapes and murders and to demand justice. 
She said the organisers of the rally hoped to raise about $10,000 that would go toward the families of the three rape victims in Unnao, Kathua and Surat.
"We are in touch with the fund-raising campaign in India and we can guarantee that funds raised will reach the three families. We hope many people will donate so that we can bring some relief to these three devastated families," she said.
Giving a rallying call of "enough is enough", the speakers expressed outrage at the unabated incidents of rape and sexual abuse and at the attitude of government and law enforcement authorities toward the victims of the crimes.
Expressing solidarity with the victims and their families, the speakers said the rapes across India as well as in every corner of the earth were "nothing short of evil" and everyone needed to stand up against the perpetrators. 
(With Agency inputs)