HYDERABAD: Days after Chandrababu Naidu-led Telugu Desam Party (TDP) walked out of the National Democratic Alliance (NDA) over the demand for 'special category status' for Andhra Pradesh, the Bharatiya Janata Party (BJP) president Amit Shah on Saturday termed the decision as unfortunate and unilateral.
In a letter to Naidu, Shah wrote, "It is a decision; I am afraid, will be construed as being guided wholly and solely by political considerations instead of developmental concerns."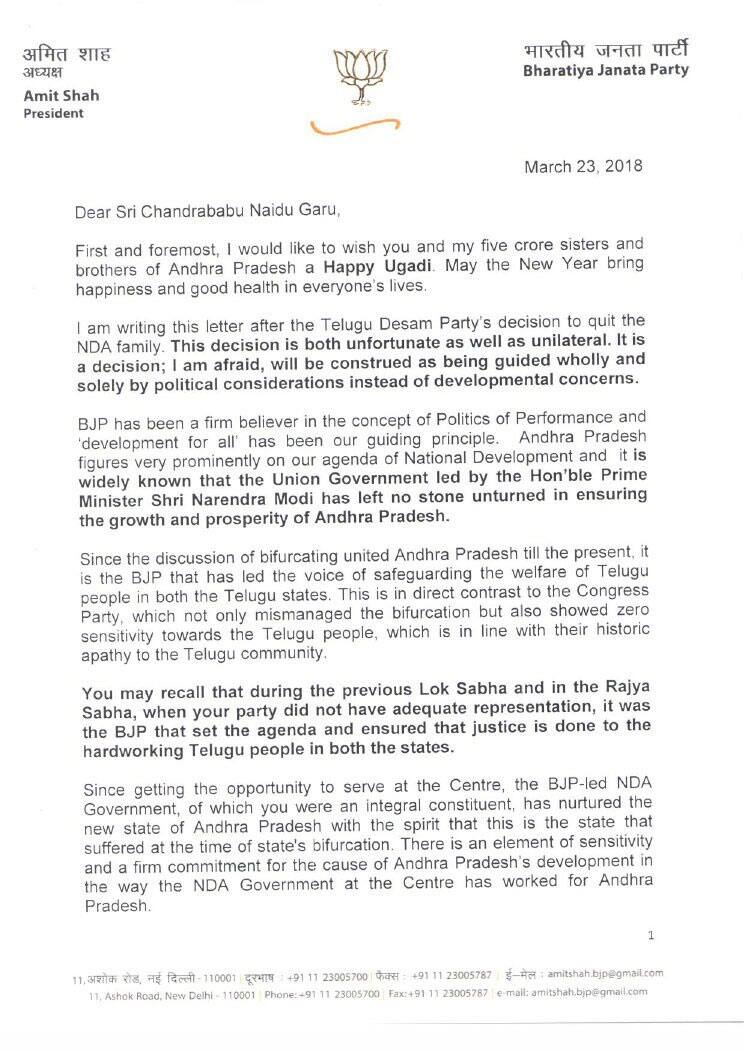 "It is widely known that the Union Government led by Hon'ble Prime Minister Shri Narendra Modi has left no stone unturned in ensuring the growth and prosperity of Andhra Pradesh," the letter added.
"The decision of TDP to quit NDA is unfortunate as well as unilateral, wholly and solely guided by political considerations instead of developmental concerns of Andhra Pradesh", Shri @AmitShah writes an open letter to Andhra Pradesh CM Chandrababu Naidu https://t.co/M9M4tsisUY

— BJP (@BJP4India) March 24, 2018
The development comes after the BJP found itself in a tight corner in Andhra Pradesh after the TDP and YSR Congress moved notices for a no-confidence motion in the Lok Sabha against the Narendra Modi government.
The current political situation in Andhra Pradesh is of utmost concerns to the BJP since the state sends 25 members to the Lok Sabha and assembly elections are due to be held in 2019.
The BJP has already asserted that the TDP's decision to sever ties with it is a timely opportunity for it to grow in Andhra Pradesh.
The TDP and the YSR Congress headed by Jagan Mohan Reddy are the two main parties in the state. 
While the former has been a part of the NDA since 2014, the YSR Congress too has often supported the government in Parliament on many legislations. 
However, both have now been targeting the BJP after the Centre declined to grant special category status to Andhra Pradesh.