NEW DELHI: Doctors of Indian Medical Association (IMA) and Association of Medical Consultants (AMC), Mumbai on Sunday wrote to Prime Minister Narendra Modi expressing disappointment over his remarks in London where he had highlighted malpractices of doctors and had also said doctors attend conferences abroad to promote pharmaceutical firms. In the letter by Association of Medical Consultants, the doctors wrote: "Your talk has irrevocably harmed the doctor-patient relationship of trust. We wish and hope that you can bring back the standing that we doctirs have, as trust, in one another is extremely important for recovery from illness."
Expressing sadness, Dr Ravi Wankhedkar of IMA said, "We are all saddened by PM Modi's remarks on Indian doctors, that also in a country(UK) where medical system is run by 70% Indians. Issues like medicine prices are in hands of government, not us. We humbly request PM to reconsider his remark."
Another IMA doctor Vinod Sharma said, "Shameful statement by PM. In conferences, we get to know new procedures and medicines. Also, the conferences abroad are never sponsored by pharma firms."
Dr Veena Pandit, a doctor from AMC, Mumbai said, "Yes some exist but to paint all doctors as unethical is really bad, that to on a public platform in a foreign country. Failure of successive Govts can't be blamed on doctors."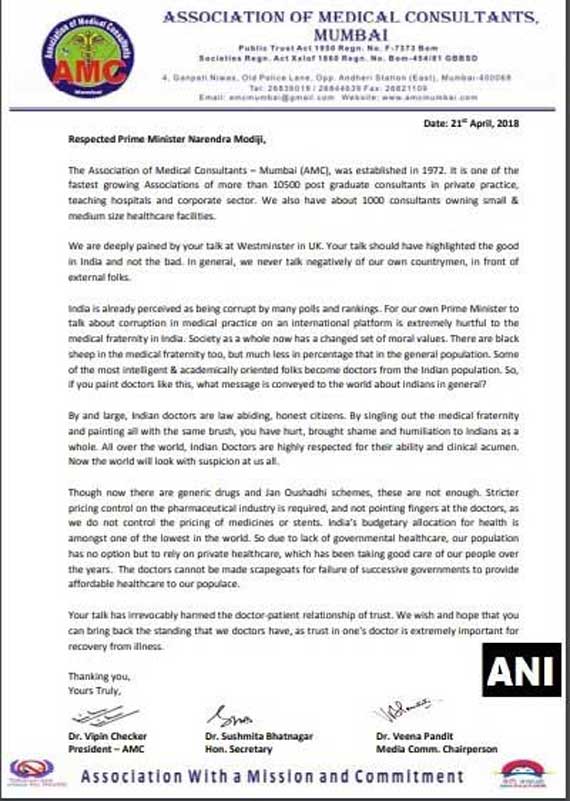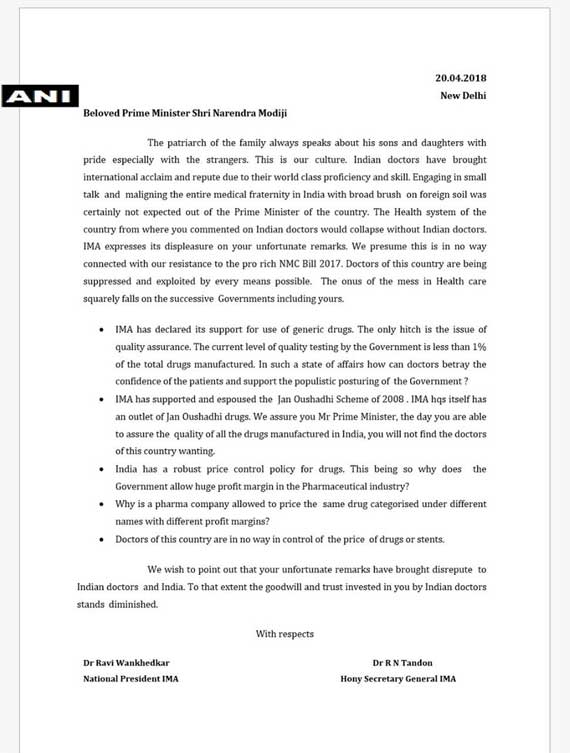 The statement from IMA read that it has always supported the use of generic drugs, but the only hitch is the issue of quality assurance."The current level of quality testing by the Centre is less than one percent of the total drugs manufactured in such a state of affairs how can doctors betray the confidence of the patients and support the populistic posturing of the Government?" IMA Secretary-General Dr. RN Tandon had asked.
The Prime Minister in "Bharat Ki Baat Sabke Saath" event, organised in London's Westminster recently, had cited examples of various international conferences allegedly funded by pharma companies, where doctors regularly participate. He had said that to end the nexus between doctors and pharmaceutical companies, which results in the sale of expensive medicines the Centre has launched generic stores in India.
"Doctors visit Singapore, Dubai to attend conferences; they don't go there because someone is sick. The pharma companies invite them for that. To finally break the resultant sale of expensive medicines the government has launched generic stores where medicines of similar quality are sold at cheaper prices," the Prime Minister had said.
(With inputs from agencies)