Jharkhand municipal, nagar panchayat, nagar nigam elections 2018 ( Nikay Chunav 2018) counting of votes and results on April 20; BJP, Congress, JMM confident of victory
The results of the keenly contested Jharkhand Municipal Elections 2018 (Jharkhand Nagar Nikay Chunav 2018) will be declared on April 20 (Friday). According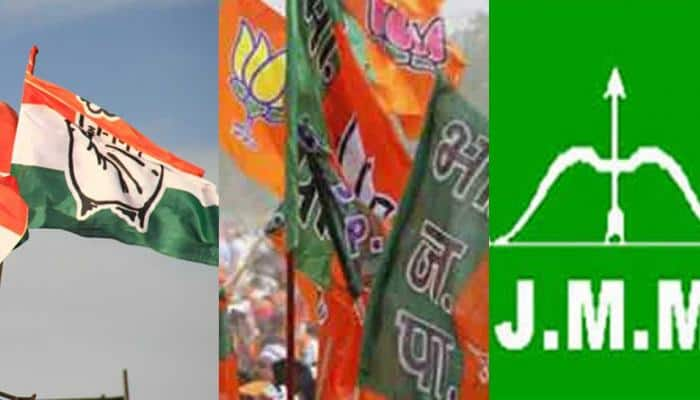 Jharkhand municipal, nagar panchayat, nagar nigam elections 2018 results on April 20
RANCHI: The results of the keenly contested Jharkhand Municipal Elections 2018 (Jharkhand Nagar Nikay Chunav 2018) will be declared on April 20 (Friday). According to the State Election Commission (SEC), the counting of votes for 34 local bodies in Jharkhand will begin at 8 am and the results for all local bodies will be declared by afternoon. The elections were held for five Municipal Corporations (Nagar Nigam), 16 Municipal Councils (Nagar Parishad) and 13 Nagar Panchayats in Jharkhand on April 16.
The SEC has made adequate security arrangements to ensure the counting of votes takes place without any hassles. Additional forces have been deployed at various vote counting booths to avoid any untoward incident.
The election to the 34 local bodies in Jharkhand witnessed a triangular fight between Bharatiya Janata Party (BJP), Congress and the Jharkhand Mukti Morcha led by Shibu Soren, which has a strong voter base in the tribal regions.
The outcome of the local body polls is also being seen as a curtain raiser for the assembly elections in Jharkhand 2019. The contest has become even more interesting with candidates for the post of Mayor and Deputy Mayor fighting on the party symbol. Both the Congress and the BJP are upbeat and confident of their victory.
An overall voter turnout of 65.15 percent was recorded in the Jharkhand civic body polls, according to the State Election Commission figures. As compared to the voting in 2017, 1.98 percent more votes were polled this time.
While the lowest voter turnout was recorded in Ranchi Municipal Corporation, which is the state's largest urban local body.
After the polling concluded on April 16, several candidates contesting the RMC election had said that they will approach the State Election Commission with complaints of errors and names missing from voter lists on polling day.
According to the State Election Commission, a total of 22, 12, 137 voters were eligible to cast their votes, out of which 10, 39, 496 were women, for 34 urban local bodies during polls on April 16.
Meanwhile, bypolls were also held at four local bodies – Jhumri Tilaiya, Deoghar, Dhanbad and Bishrampur.
Here is the list of local bodies for which polls/by-election were held on April 16: -
1) Medininagar Nagar Nigam, Palamu District
2) Hazaribagh Nagar Nigam, Hazaribagh District
3) Giridih Nagar Nigam, Giridih District
4) Ranchi Nagar Nigam, Ranchi District
5) Adityapur Nagar Nigam, Saraikela-Kharsawan District
6) Garhwa Nagar Parishad, Garhwa District
7) Chatra Nagar Parishad, Chatra District
8) Madhupur Nagar Parishad, Deoghar District
9) Godda Nagar Parishad, Godda District
10) Sahibganj Nagar Parishad, Sahibganj District
11) Pakur Nagar Parishad, Pakur District
12) Dumka Nagar Parishad, Dumka District
13) Mihijam Nagar Parishad, Jamtara District
14) Chirkunda Nagar Parishad, Dhanbad District
15) Phusro Nagar Parishad, Bokaro District
16) Ramgarh Nagar Parishad, Ramgarh District
17) Lohardaga Nagar Parishad, Lohardaga District
18) Gumla Nagar Parishad, Gumla District
19) Simdega Nagar Parishad, Simdega District
20) Chaibasa Nagar Parishad, Paschimi Singhbhum District
21) Kapali Nagar Parishad, Saraikela-Kharsawan district
22) Nagaruntari Nagar Panchayat, Garhwa District
23) Hussainabad Nagar Panchayat, Palamu District
24) Chhattarpur Nagar Panchayat, Palamu District
25) Latehar Nagar Panchayat, Latehar District
26) Domchanch Nagar Panchayat, Koderma District
27) Rajmahal Nagar Panchayat, Sahibganj District
28) Barharwa Nagar Panchayat, Sahibganj District
29) Basukinath Nagar Panchayat, Dumka District
30) Jamtara Nagar Panchayat, Jamtara District
31) Khunti Nagar Panchayat, Khunti District
32) Bundu Nagar Panchayat, Ranchi District
33) Saraikela Nagar Panchayat, Saraikela-Kharsawan District
34) Chakulia Nagar Panchayat, Purbi Singhbhum District
35) Deoghar Municipal Corporation, Deograh District
36) Dhanbad Municipal Corporation, Dhanbad District
37) Bishrampur Nagar Parishad, Palamu District
38) Jhumri Tilaiya Nagar Parishad, Koderma District
Officials in State Election Commission had informed that a total of 278 candidates were in the fray for 34 seats of Mayor and chairman while 320 candidates contested for the post of Deputy Mayor and Vice-chairman. There were 122 candidates for Mayoral and Presidential posts and 23 candidates for Deputy Mayor and Vice President's posts.
Live Tv