BENGALURU: Despite the Bharatiya Janata Party (BJP) emerging as the single largest party in Karnataka Assembly elections 2018, the JDS seems to end up being the kingmaker. Even as the counting is underway, the Congress extended support to JDS and are jointly trying to reach out the Governor.
JDS leader HD Kumaraswamy wrote to the Governor seeking his appointment. In the letter, Kumaraswamy informed that his party has accepted the support extended by the Congress to form the government in the state. "We have accepted Congress' support to form the government," he said.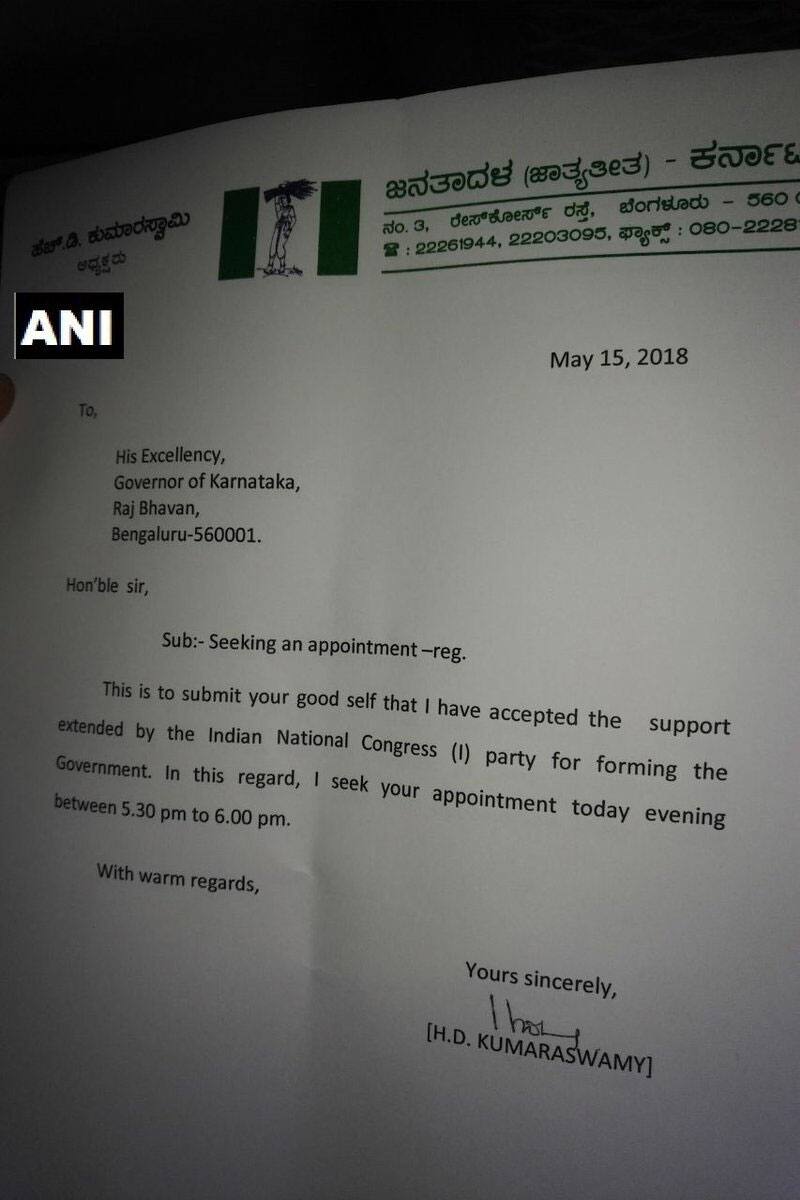 The JDS leader urged for an appointment on Tuesday evening between 5.30 pm to 6.00 pm.
Confirming the party's acceptance towards the support offered by the Congress, JDS leader Kunwar Danish Ali said that Kumaraswamy will be the Chief Minister and the Congress and the JDS will jointly meet the Karnataka Governor in the evening. He told news agency ANI, "JD(S) had always maintained that HD Kumaraswamy will be CM. As per results, we're doing everything to keep BJP out of power. Congress has extended its support, we have accepted it. We will jointly go to meet Governor after 5.30 pm today."
Here's the full text of the letter:
To,
His Excellency, 
Governor of Karnataka, 
Raj Bhavan, 
Bengaluru-560001. 
Hon'ble Sir, 
Sub:- Seeking an appointment-reg.
This is to submit your good self that I have accepted the support extended by the Indian National Congress (I) party for forming the Government. In this regard, I seek your appointment today evening between 5.30 pm to 6.00 pm.
With warm regards, 
Yours sincerely,
[H D KUMARASWAMY]
Till 5.30 pm, the BJP was leading on 105 seats while Congress bagged 77 and JDS managed to get 38 seats. For the 225-member Karnataka Assembly the halfway mark is 113, however, the polling was deferred in two constituencies which makes the halfway mark 112.
Only if the Congress and JDS enter into a post-poll alliance, they will be able to form the government in Karnataka overpowering the BJP who has emerged as the single largest party.