New Delhi: The Election Commission (EC) announced late on Saturday that Karnataka had seen a voter turnout of 70%. And at the end of voting day, a long list of exit polls made a number of predictions which effectively pointed to the possibility of a hung assembly in the state.
But that is not what leaders of all competing parties have been claiming so far and even boasted about triumphs at the end of Saturday.
(Also see: In pics: When Karnataka came out to vote)
BJP party chief Amit Shah, in an exclusive interview to Zee News earlier this week, has said his party will not need post-poll alliance because it will get absolute majority. " We do not have pre-poll partners, so there is no question of post-poll partners," he had said.
The party's CM candidate BS Yeddyurappa cast his vote in Shikarpur and said that he is confident of BJP getting more than 150 seats. "The atmosphere for BJP in the state is very good. There is no doubt in my mind," he said.
Congress leaders too have shown similar confidence with many of them predicting a sizable win after voting concluded. Siddaramaiah was one of the first off the block to claim that his party was coming back to power 'with absolute majority.'
Ghulam Nabi Azad echoed the confidence and told reporters that Congress will return to form the next government in the state. State leader KC Venugopal too said the mood within the party is upbeat.
Congress President Rahul Gandhi, at one of his several election rallies, had said that his party may have had a string of losses in recent times but that it would stop with Karnataka. He said a win here will only be the first of many to come.
Deve Gowda's JD-S too has predicted a strong performance for itself and could possibly play a crucial role if BJP or Congress is unable to reach the magic number needed to form the government.
And reaching the magic number - 112 in case of Karnataka - is what appears rather unlikely. At least according to a number of exit polls.
The maha exit poll conducted by Zee News shortly after the polling ended showed that a fractured mandate is a real possibility.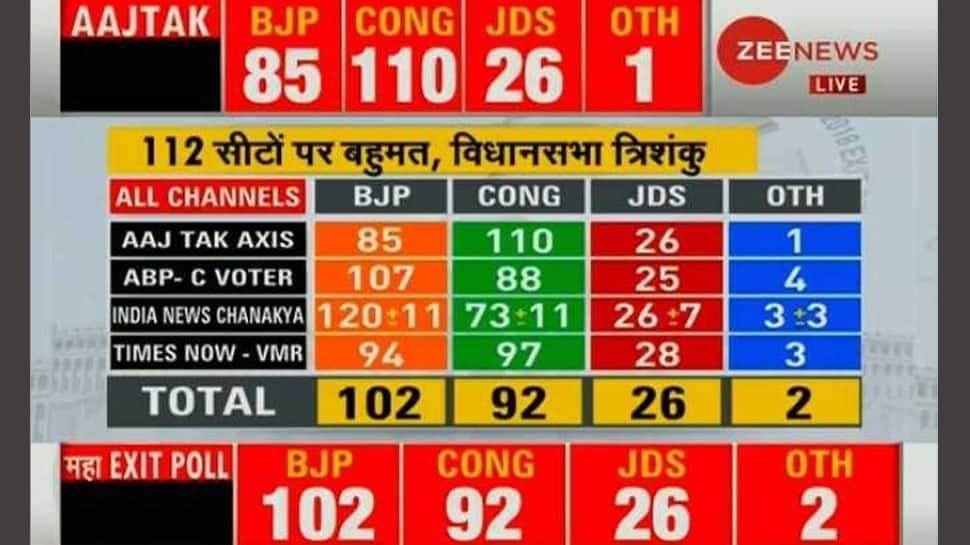 So while politicians cutting across party lines are entitled to their views and predictions, ground reality may well be different. All eyes now would be on May 15 - the counting day.