PM Modi encouraging friends to demolish democracy, I have proof: HD Kumaraswamy
HD Kumaraswamy has been facing heat from BJP in Karnataka at a time when his coalition government in the state appears to be on shaky grounds.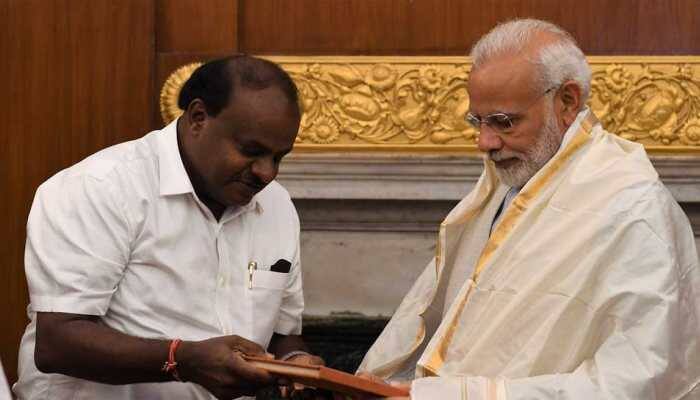 At a time when he is leading a shaky coalition government in Karnataka, HD Kumaraswamy has trained his guns on Prime Minister Narendra Modi and accused him of undermining Indian democracy.
The Karnataka chief minister on Friday accused PM Modi of misleading people and called upon opposition parties to unite against him. "On one side Narendra Modi is preaching to the country and politicians. On the other side, he is encouraging his friends to demolish democracy through black money. I will expose this now, I have the proof to back my charge," Kumaraswamy said and released a tape in which - Kumaraswamy claims - BJP state chief BS Yeddyurappa makes an offer of Rs 25 crore to the son of JD-S MLA Naganagowda Kandkur, as well as a ministerial post for his father. Zee News, however, cannot independently verify the authenticity of the tape.

Kumaraswamy, however, brandished the tape as his weapon of choice. "He (PM Modi) is systemically demolishing this country's democracy, misleading the people. I request all the opposition parties to rise. They must expose the truth of the Prime Minister in Parliament."
Kumaraswamy is currently battling a massive backlash from BJP legislators in the Vidhana Soudha who say the JD-S-Congress coalition government does not have the support of the majority. The Budget session began on a stormy note earlier this week even as several Congress legislators backed former CM Siddaramaiah as their sole leader. There are also allegations of each camp trying to poach MLAs from each other.
Political analysts believe that Kumaraswamy's need to lash out at PM Modi is a reaction to BJP's Karnataka unit upping the pressure on the state government.
On his part, PM Modi had taken on opposition parties in Parliament on Thursday and had questioned their intentions. "Mahagathbandhan is mahamilavat," he had said.