27 August 2015, 14:00 PM
22-year-old Hardik Patel today reiterates that peaceful protest for OBC quota for Patel community will continue.
According to news agency ANI, Hardik demands ex gratia of Rs 35 lakhs for people, who died during Patel community agitation in Gujarat.
Hardik Patel, the convenor of Patidar Anamat Andolan Samiti (PAAS) further says that if the state government fails to give ex-gratia to victims, we will ask farmers to stop supplying milk, vegetables, water etc.
27 August 2015, 12:20 PM
A constable of Chowk Bazaar police station, Dilip Rathore, who was injured in clashes with protesters in Dabholi area, succumbs at a private hospital, taking the toll in the violence to nine.
27 August 2015, 12:18 PM
With normalcy returning in many parts of Gujarat, curfew has been lifted in Surat.
27 August 2015, 11:56 AM
According to news agency ANI, no violence has been reported today from Rajkot. The city was paralysed for two days as Patels had called for two-day complete shutdown. 
27 August 2015, 10:59 AM
As situation continues to remain tense in many parts of Gujarat, four CRPF and 2 RAF teams reach Ahmedabad Railway Station from Bhopal.
27 August 2015, 08:56 AM
Due to the ongoing Patel community agitation, the schools and colleges in Ahmedabad will remain closed today. 
27 August 2015, 08:40 AM
Due to the ongoing agitation in Ahmedabad Division, some Western Railway trains have been cancelled, partially cancelled and diverted.
List of cancelled trains:
Train no 22935 Bandra Terminus-Palitana Express.
Train no 12946 Mahuva-Surat Express cancelled between Mahua-Ahmedabad.
Train no 16333 Veraval-Trivendram Express cancelled between Veraval- Ahmedabad.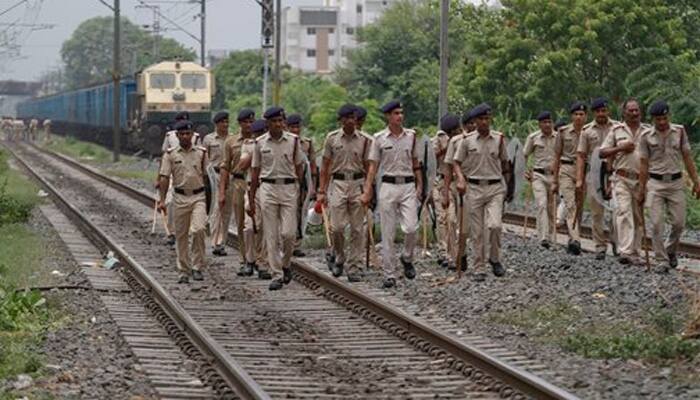 27 August 2015, 08:36 AM
Eight people were killed, and over 100 injured as a statewide shutdown in Gujarat called by the Patidar Arakshan Andolan Samiti turned violent on Wednesday.
Flag marches were held in the city this evening by the Army amid reports of sporadic violence in some parts of the state.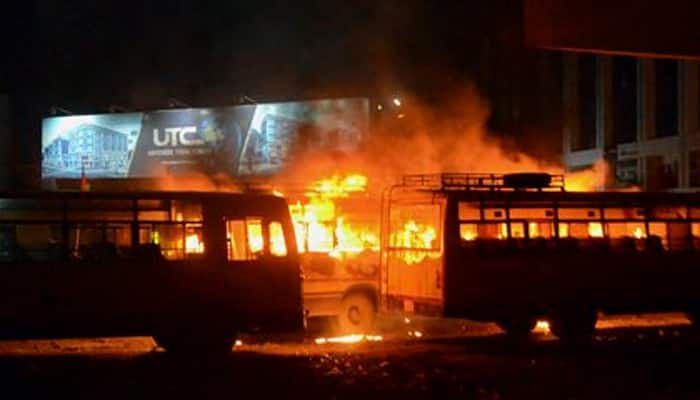 Notwithstanding Prime Minister Narendra Modi's appeal for peace, protesters resorted to arson, stone-pelting and attacks on public and private properties. The bandh call given by Patel leaders brought the city to a grinding halt.
Six people were killed in firing by police and paramilitary forces, while two others died following clashes which started Tuesday night, police said. Four deaths were reported in Ahmedabad, three in Gadh village of Banaskantha district and one in Mehasana town.
In a televised address in Gujarati, the Prime Minister appealed for peace and emphasised that all the issues can be resolved through talks.
"I appeal to all brothers and sisters of Gujarat that they should not resort to violence. The only 'Mantra' must be 'Shanti' (peace)," said Modi.
Meanwhile, Hardik Patel, the 22-year-old leader of the Patel Anamat Andolan Samiti who is spearheading the agitation, blamed police for the violence and said the agitation will intensify in the coming days.
Denying that the protesters started the violence, he accused the police of trying to "disrupt" the movement at the behest of political establishment.Late on Tuesday night, Patel was detained and taken into custody by police after he launched a sudden hunger strike on the stage at the meeting venue.
Adopting an aggressive stance, Patel had earlier served a 48-hour ultimate to the state government to concede to the PAAS demands, following which the agitation would be intensified.
As news of the police action on Patel spread, angry Patidars reacted violently, attacking public and private property, buses, vehicles, as Chief Minister Anandiben Patel's appeal for peace went unheeded.
Released after two hours, Patel on Tuesday had appealed for peace and restraint to his followers. He also announced a state-wide shutdown on Wednesday to prevent further escalation of the situation.
However, violence continued to spread during the night in which the homes of at least two cabinet ministers were attacked. Stone-pelting, clashes, torching of a police outpost near Ahmedabad, and arson to public and private buses were also reported.
As per a tentative count, more than 100 buses, including several state and private buses, private cars and motorcycles were damaged in many cities.