Thirteen parliamentary constituencies in Punjab will go to polls in a single phase during the final phase of Lok Sabha election on Sunday, May 19. These constituencies are Gurdaspur, Amritsar, Khadoor Sahib, Jalandhar (SC), Hoshiarpur (SC), Anandpur Sahib, Ludhiana, Fatehgarh Sahib (SC), Faridkot (SC), Firozpur, Bathinda, Sangrur and Patiala. The polling will take place from 7 am to 6 pm.
Out of the 13 constituencies, nine are for General Category while four constituencies – Jalandhar, Hoshiarpur, Fatehgarh Sahib and Faridkot – are reserved for Scheduled Castes. A total of 278 candidates are contesting for the 13 seats out of which 24 are women. The lowest number of eight candidates are contesting from Hoshiarpur (SC) while the maximum number of 30 candidates are contesting from Amritsar. A total of 23,213 polling stations have been set up in the state.
Punjab has a total of 2,08,92,674 electors out of which 1,10,59,828 are male, 98,32,286 are female electors and 560 electors are from the third gender. Here's a gender-wise breakup of voters in all the parliamentary constituencies (as on April 29, 2019).
Gender-wise break-up of voters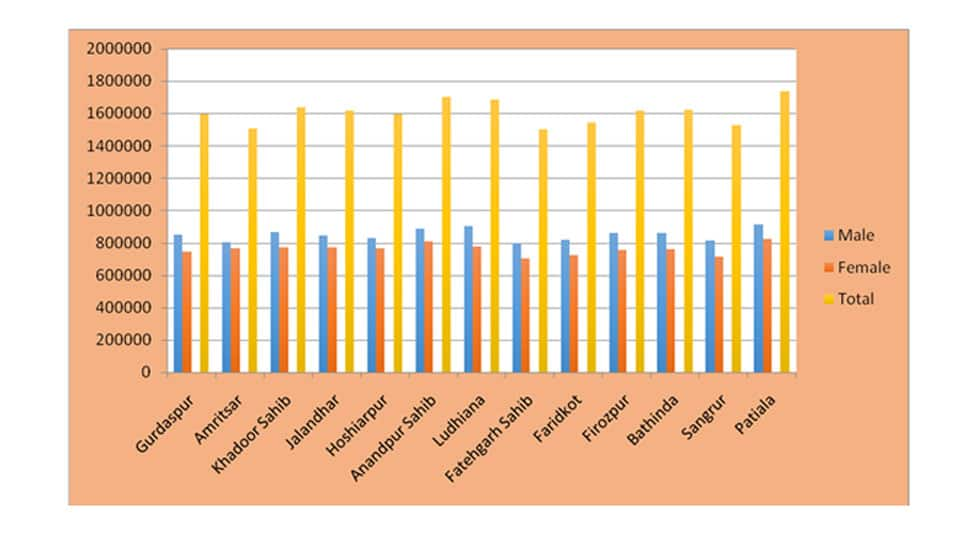 Campaigning in the state ended on Friday evening. In the fray for Sunday's elections are Shiromani Akali Dal chief Sukhbir Singh Badal, Punjab Congress president Sunil Jakhar and Aam Aadmi Party's Punjab unit chief Bhagwant Mann. Two Union ministers, Badal's wife Harsimrat Kaur Badal (Bathinda) and Hardeep Singh Puri (Amritsar), are also in the field of 278 candidates, 24 of them women.
Counting of votes will take place on Thursday, May 23.