New Delhi: Stock of Dr Reddy's jumped 3.65 percent on Friday, its last trading day on Sensex. Dr Reddy's will no longer be a part of Sensex as the index will see a reshuffle with effect from Monday.
Dr Reddy's Shares jumped 3.65 percent to Rs 2351.10 a piece on BSE. Shares registered a high of 2382.20 and 2290.00 during intra day trading.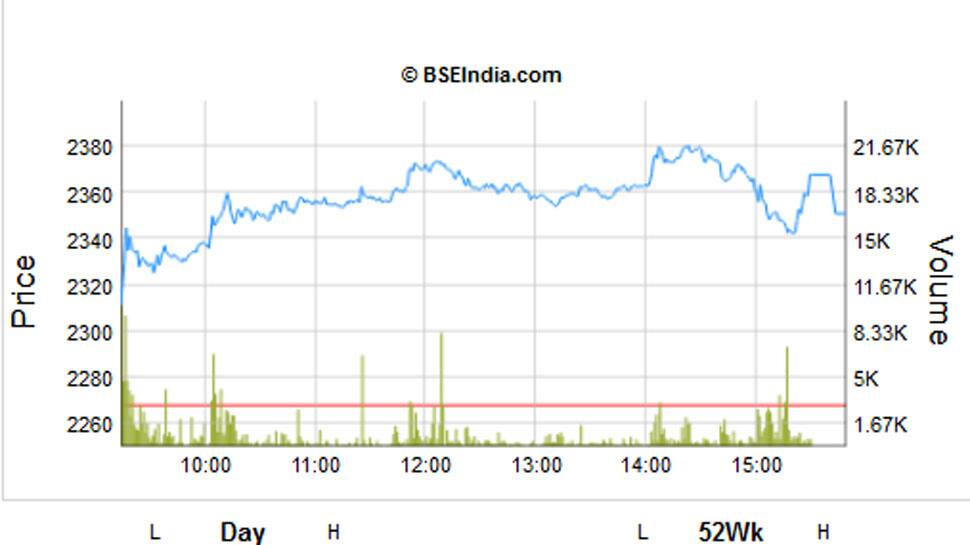 Chart Courtesy: BSE
The reshuffle of the S&P BSE Sensex composition effective from June 18 will hit sectors like healthcare, private banks, technology, consumer and auto, a report said.
Healthcare's weight will now be at an eight-year low, with the exclusion of Dr Reddy's Labs and also due to the significant underperformance of the sector over the last two years. Sun Pharma has a weightage of 1.7 percent and will be the only healthcare stock in the benchmark index, broking firm Motilal Oswal said in its 'India Strategy' report here.
With the exit of Dr Reddy's Labs having weightage of 0.8 percent, healthcare stands to lose the most in terms of weight minus 70 basis points (bp) to 1.7 percent). Earlier, in December 2017, Cipla and Lupin were excluded from the benchmark, it said.
Other losers include private banks (-20bp), technology (-10bp), consumer (10bp), and autos (-10bp).
However, metal sector's weight has bounced off its lows of sub-1% in FY16, but it is far off from the peak of 8.1percent in FY11. With inclusion of Vedanta in the benchmark, the sector weight will increase to 2.6 percent (+130bp).
Among the other sectors, cement and real estate have no representation in the Sensex, it said.
The report pointed out that the aggregate weight of the existing Sensex stocks will decline by 50bp. Of the 10 stocks to be most impacted in terms of weight, four are from the financial sector.
Ten stocks to be most impacted (in terms of weight) by the reshuffle are HDFC Bank (-6bp), Reliance Inds (-5bp), HDFC (-5bp), Infosys (-4bp), ITC (-4bp), ICICI Bank (-3bp), TCS (-3bp), L&T (-3bp), Kotak Mahindra Bank (-2bp) and Maruti (-2bp).
With PTI Inputs